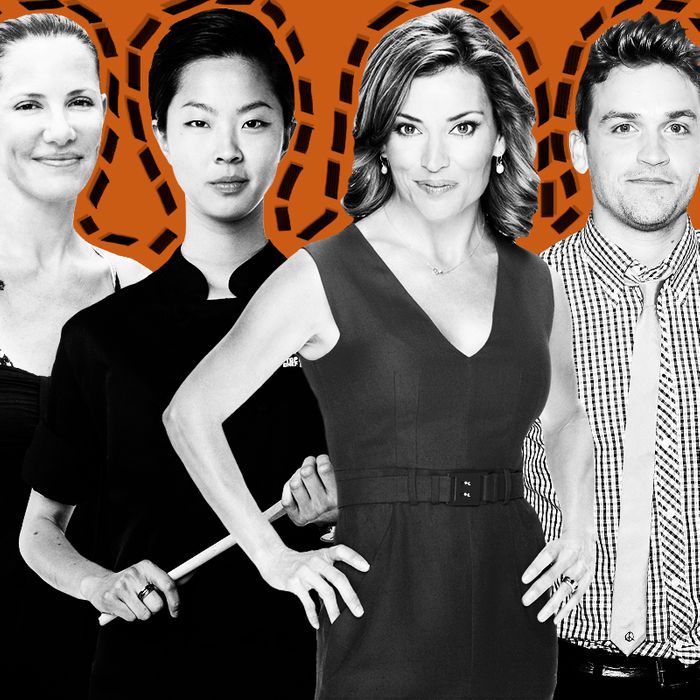 Photo: Vulture Illustration and Photos by Getty Images
All week long, Vulture explores what happens to reality TV contestants after the show ends — and the future of the genre itself.
Doing reality television is sort of like getting a tattoo. It can't be undone, and while it may be a reflection of a certain period in a person's life, it will be part of them no matter what. Don't take my word for it: Listen to some former reality personalities on how they feel about their TV past now. Naturally, the relationship between the stars and their experiences changes as time wears on, as evidenced by these conversations with nine unscripted veterans. Did being a reality-TV star help or hurt them in their careers? How different is the experiences of a reality star 20 years ago compared to that of one who rode in on the social media boom? Ahead, we examine how reality TV can shape a life at five different stages. Unlike getting inked, no one I talked to said they regret what they did.
One Week Later
On September 9, Clayton English was named the winner of the ninth season of NBC's Last Comic Standing, and his phone has been ringing ever since. It's not just people trying to book him at their comedy clubs — though that's happening, too — but friends, family, acquaintances, and people he hasn't seen in years offering their congratulations. The feeling of being recognized in public was nearly immediate. "It used to happen a little bit in Atlanta because I was in House of Payne," English says. "But now I'm in California at the Walmart, and white ladies are coming up to me and Chinese dudes recognize me from the show. It's a whole new market."
Through his appearances, English was able to sign with an agent who started getting him gigs immediately. English says he's booking headlining slots at places that wouldn't have him before, and visiting more cities on the strength of his new title. Currently, he's seen nothing but benefits to his win and doesn't worry about his skills onstage being eclipsed by reality TV infamy. "I'm a comedian first," he says. "Any way I can get out there and show people what I do is good."
One Year Later
When he appeared on Big Brother last season, Zach Rance's profession was listed as "unemployed." It was a bit of a misnomer because he had just graduated with a degree in economics from the University of Florida two weeks before being locked in a house with a bunch of strangers for the summer. One year later, he still lives with his mother in South Florida and works for a Periscope-esque streaming app called YouNow, where he entertains his hundreds of thousands of social media fans every day with funny antics and live shows. Rance says the smartest thing he did on BB wasn't mentioning his Instagram and Twitter handles, but spelling them out, so that people would find him instead of all the fakes profiles popping up under his name while he was sequestered. "[Social media] was something I didn't give two shits about before this," Rance says, but he left the show with more than 400,000 Instagram followers. He's been trying to entertain them ever since.
Though he's seen his number of followers dip in the year since he's been on air, he recently signed with a talent agent and feels like something big is on the horizon. "I feel extremely confident that I'm going to turn this into a long, prosperous career," he says.
Kristen Kish, who won Top Chef in 2012, got a manager a year after her big win as well, but it wasn't to get her more work — it was because she was getting far too much of it. "When you go on the show, they don't tell you about how your life is going to change," she says now. "It starts with people wanting you to come to their home and do private dinners for them, then it's food festivals in other cities, and travel is involved. You feel bad saying no because it's so glamorous."
There came a point where Kish was overwhelmed with the obligations of her newfound fame — until she got a manager onboard. "The main thing I figured out was the direction I wanted my career to take," she says. "So when you get these inquiries about opportunities, you see if it's in line with your end goals." These days, she's co-hosting 36 Hours, a reality show on Travel Channel based on the long-running New York Times column. "There are definitely pressures to open up a restaurant right away, or move to a bigger city, or to take a job in fear of these opportunities not coming back," she says. "Now I feel much more calm having learned more about myself."
5–10 Years Later
2008 So You Think You Can Dance finalist Neil Haskell is now dancing in Broadway smash Hamilton, and no, he can't get you tickets. As a swing — an understudy who fills in for various parts in the chorus — he's only performed eight and a half times (that half time is when he started during intermission). Haskell has worked steadily on Broadway since his season aired, in shows like Altar Boyz, West Side Story, and Bring It On. Haskell is grateful that he doesn't get recognized on the street as much as before because he's a private person who likes to keep his life small and quiet. "I don't put everything out there on social media," he says. "It's not something I'm really comfortable with." Still when you're in the hottest show in town, reality fame has a way of popping up all the time. "Sometimes things get crazy by the stage door," Haskell admits.
Dale Talde, who came in sixth twice on Top Chef — first in the Chicago season in 2008, and then again in 2011 on the All-Stars season — doesn't mind the attention if it brings people into his restaurants. He now owns four — Pork Slope, Talde Brooklyn, Talde Jersey City, and Thistle Hill Tavern — and his first cookbook, Asian-American: Proudly Inauthentic Recipes From the Philippines to Brooklyn, just came out.
Seven years after his first Top Chef stint, though, Talde still feels some negativity from his contemporaries because of how he achieved his success. "In certain fields, people are going to write off what I do as bullshit. Sometimes I'm not included in some circles, and that's fine," he says, quickly discounting that treatment. "The same people who talk shit about [Top Chef] are talking shit about the people eating at their restaurants. Show's like that expose people to food … you can shit on these people, but they're the customers."
10–15 Years Later
Kelly Wiglesworth, who came in second to Richard Hatch on the first season of Survivor, is not sitting awake at night thinking about what her life would have been like if she had won the $1 million prize. "Richard got the million, but in a weird way, I sort of ended up for the better that I didn't," she says now, 15 years after 52 million people watched the series finale, launching the modern era of reality TV as we know it. Wiglesworth says the change in her life was almost immediate — one day she was cleaning out toilets as a river-rafting guide, and the next she was on the red carpet at the Emmys wearing $100,000 earrings. But in the long-term, things have calmed down considerably. Wiglesworth now trains yoga instructors at her school in a Mexican fishing village with only 43 residents, all of whom have never seen the show and have no concept of her place in reality history. She's says she's glad not to get the attention anymore.
But when she was asked to return to the show 15 years later for Survivor: Second Chance (premiering Wednesday, September 23 on CBS), Wiglesworth went for it. "I'm definitely better prepared for whatever attention is coming," she says, "but I'm happy to be [in Mexico] while it's airing. No one sees it — there's no internet, there's no social media. I'm cool to just let it happen."
Yoanna House, the winner of the second season (sorry, Tyra, "cycle") of America's Next Top Model, has never had any interest in returning to reality TV. "For me, I did reality when I was super young, and I knew if I went from one reality show to the next, no one would take me seriously in broadcasting," House says from New York, where she was covering Fashion Week for NBC affiliates around the country. Her Top Model past has been a bit of a burden. "After the first two or three years, I wanted people to forget the show," she says. "My friends would get so livid because we'd be out and people would say, 'That's the girl from the show.' They would yell, 'She's doing other things now!'"
Yes, she is still modeling — House has booked 16 covers last year, both internationally and in the Florida market, where she lives in her hometown of Jacksonville. But she's found a better niche working as a producer and host on shows like TLC's The Look for Less and The N's Queen Bees. "Some of the girls that were doing high fashion, you don't see them anywhere," House says. "There is so much more longevity [in hosting], and I feel like I'm more approachable than someone who is so tiny. That has been my ticket."
15–20 Years Later
Anyone who watched The Real World: New Orleans in 2000 will remember when Danny Roberts's boyfriend, who was serving in the military, came to visit and had his face blurred because of the Don't Ask, Don't Tell policy. Now, when Danny is asked if he's "Danny from The Real World," he tries to maintain a similar level of anonymity. "I don't want have that conversation unless it's someone who I am getting to know personally," he says.
Luckily for Danny, who lives in Atlanta and works as a recruiter for Mail Chimp, most of his young techie co-workers have no clue who he is because they are too young to have seen the show. "They don't give a shit about The Real World," he says. "It's strange because what they know is the later trashy ones, so I hope they don't dismiss me as another trashy Real Housewife." Still, he doesn't regret his time on the show, especially because it gave him a chance to go around the country speaking about the now-defunct Don't Ask, Don't Tell policy. "I was someone who has asked myself, Was it a good move in life to have done that?" he says. "Something like this that was a positive outcome makes it worth it."
Kit Hoover, who is the co-host of Access Hollywood Live, gets recognized a fair bit more often, but it's from her career on air as a journalist on the syndicated show and as a former host of ESPN's morning show Cold Pizza. Most people forget that she was in the inaugural cast of Road Rules, which aired almost exactly 20 years ago. Hoover recently showed some episodes to her kids for the first time. "They thought it was boring," she laughs. "It's so slow compared to now. Now you think of The Amazing Race."
While her reality past doesn't come up that often, Hoover is grateful for the exposure it gave her 20 years ago, launching her journalism career. "The people that come out bitter and think they weren't portrayed well, I can't speak to that, because that is what it is," she says. "I can't believe that I did it, but I wouldn't have a job I love right now if it weren't for that. I know where my bread is buttered."