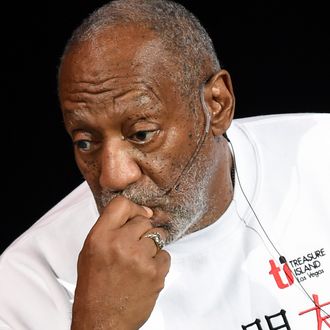 Bill Cosby.
Photo: Ethan Miller/2014 Getty Images
In light of Bill Cosby's ongoing sexual-assault scandals, Marquette and Fordham on Thursday revoked honorary degrees they'd bestowed upon the comedian. According to reports, this is the first time both Jesuit institutions have made such annulments. In a statement to Fordham students, the university noted Cosby received the nod because of his hand in "breaking the color barrier in American television and popular culture," and for being an "inspirational figure." To justify the void, Fordham said a recipient's actions would have to be unambiguously dishonorable. The school's leaders have deemed Cosby's sexual actions as immoral and damaging to women everywhere. Marquette's reasons echoed those of Fordham, and the college's president tweeted on Thursday afternoon that he's proud of the school "for taking this important stand." Marquette presented Cosby with the honor in 2013, and Fordham gave theirs in 2001.
Here's the full statement from Fordham, sent to all students:
In 2001, Fordham University presented comedian and actor Bill Cosby with an honorary doctor of fine arts degree, not least because of the significant role he played in breaking the color barrier in American television and popular culture, and his position as an inspirational figure for millions of African Americans. At the time, there was no public awareness of the allegations of rape against him.

Today Joseph M. McShane, SJ, president of Fordham, put before the University Board of Trustees a motion to rescind Mr. Cosby's honorary degree. The trustees voted unanimously to do so, officially rescinding Mr. Cosby's Fordham degree. The University has taken this extraordinary step in light of Mr. Cosby's now-public court depositions that confirm many of the allegations made against him by numerous women.

Fordham has never before rescinded an honorary degree. A recipient's actions would have to be both unambiguously dishonorable and have a deep impact. By his own admission, Mr. Cosby's sexual exploitation of women was premeditated and ongoing. Equally appalling is his longtime strategy of denigrating the reputations of women who accused him of such actions.

That Mr. Cosby was willing to drug and rape women for his sexual gratification, and further damage those same women's reputations and careers to obscure his guilt, hurt not only his victims, but all women, and is beyond the pale.

As a Jesuit university, Fordham could no longer stand behind the degree it had bestowed upon Mr. Cosby, hence this unprecedented action.
And here's Marquette's, from President Michael R. Lovell and Provost Daniel Myers:
As the president and provost of Marquette University, we are writing to inform you that earlier today, we presented a resolution to the Board of Trustees to rescind the honorary degree granted to Bill Cosby in 2013. The Board approved that resolution, and the degree is rescinded immediately. Over the past several weeks, we've had extensive conversations with campus leaders and faculty members who showed overwhelming support for the action our board took today.

By his own admission, Mr. Cosby engaged in behaviors that go entirely against our university's mission and the Guiding Values we have worked so hard to instill on our campus.

Every day, we live these values by challenging our students to integrate knowledge and faith into their real-life decisions in ways that will shape their lives.

With those values in mind, let us all remember that the foundations on which our great university was built remain as important today as ever.
These moves come a couple months after Spelman College, along with other institutions and companies, severed ties with the comedian. Although Cosby has yet to be charged with any crime, he's set for another deposition on October 9.