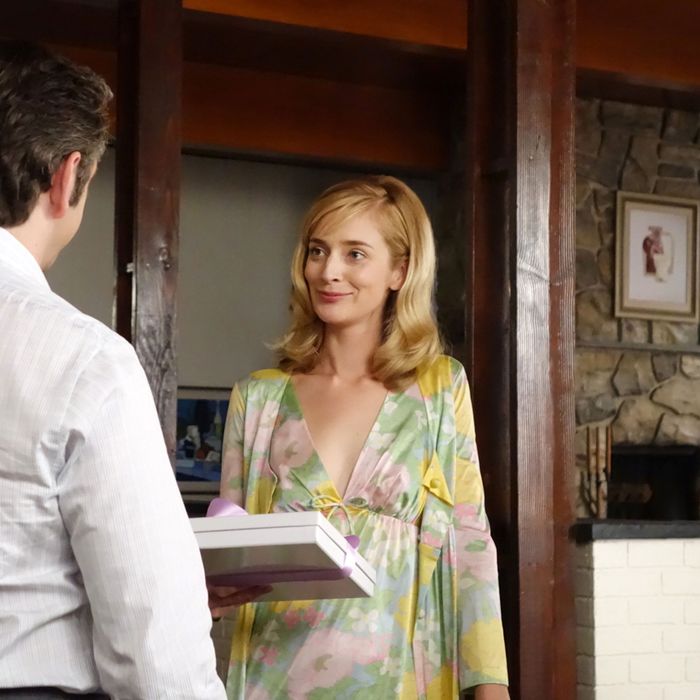 Michael Sheen as Dr. William Masters and Caitlin Fitzgerald as Libby Masters.
Photo: Michael Desmond/Showtime
"You are attempting to conduct an experiment with an infinite number of variables and without any controls. It's chaos, Bill!" In articulating her argument during what I think was her 37,685th fight with Bill about the surrogate study this season, Gini may have described this season of Masters of Sex better than I ever could. At this point, I'm no longer angry about the messy state of things. I'm just disappointed.
To begin with, there's Bill Masters, of the Newly Unhinged Masters, who has all but gone to pieces over Gini's continued interest in Dan Logan. We have plenty of evidence to support the fact that Bill is emotionally stunted and clueless, but I have a hard time believing that after over a decade, he's unable to have a straightforward conversation with Gini about the nature of their relationship. His behavior toward her makes him seem sex-crazed and possessive and driven by and drawn toward something other than Gini herself, which is problematic because I think the show wants us to see Bill as someone broken by love and desperate for Gini. All of the tricks he tries — pandering to her opinions, enlisting her to create a new protocol, even offering to discontinue the surrogate program altogether — fail.
What's troubling is that on top of Bill's less-than-believable aversion to any form of communication, we've been watching him and Gini do this back-and-forth (with him pursuing and her either running away or passively engaging) all season long. When Gini finally rejects Bill at the end of the episode — and by "rejects" I mean "doesn't read Bill's mind that he's planning to take her to dinner and leaves with her boyfriend instead" — he stalks back into the office and has angry near-sex with Nora, the too-young sex surrogate. The sad part is that throughout all of this, the surrogacy program feels like little more than a plot device, and that's unfortunate, given that it was a fascinating component of the real-life Masters and Johnson's research. Masters of Sex used to use the clinic not just as a backdrop, but as an engine that generated the series' stories, and abandoning that as a narrative technique has weakened the show.
Then there's Gini, who's trapped in a shame spiral after she learns (from Dan) that Tessa is aware of her affair with Bill. But we've seen Gini live this story out already, last season, when Lillian learned about Bill and Gini's special "research process." I can't see the point in making her (or the show's viewers!) live it out again, especially when it's spelled out so doggedly and unimaginatively in places — at one point, Gini has to hastily close a hotel nightstand drawer because even the Bible is judging her. And on top of that, Gini's blind shock over Tessa knowing the truth is so confusing. Gini's a smart woman who knows she has a smart daughter, and so while I'm sure she was compartmentalizing her work life and home behavior, it doesn't make sense for her to act so completely gobsmacked after hearing that Tessa knows. I still don't know what to make of the version of Gini we're getting this season — she feels so passive compared to the woman willing to do whatever it took to work with Bill way back in season one. Crying on Dan's hotel-room bed, she says, "It's not like I decided my life should be this. It's not like I chose," and that doesn't sound right coming from Gini. I can see her being unhappy with her choices, but in the past, she's always owned them. Also, while I've gone back and forth about Dan's relationship with Gini, there's something off-puttingly paternalistic about his interactions with her, but at least he doesn't say "the smell of sex" a single time throughout the episode, which is progress.
Tessa, for revenge, has sex on her mother's bed, because she is America's Worst Teenager.
Meanwhile, over on her spinoff-within-a-series, Libby's having a big week — first, her secret boyfriend helps her children put on a surprise play for her, and then, it's her birthday! Bill greets her first thing in the morning with coffee and a beautifully wrapped box, which she opens to find an itinerary for a vacation. But when she tells Bill she's surprised, since it's been so long since they've traveled together, he says it's a trip for her. Alone. Libby's right to be upset, especially since Bill's included tickets for Hello, Dolly!, which I'm pretty sure has been scientifically proven to be the most depressing piece of theater to see by yourself. It's sort of hilarious that in the parade of micro-aggressions that has been her marriage to Bill, the Hello, Dolly! tickets are what finally push her over the edge, and into Paul's arms. After a patented Libby Monologue, Paul proposes marriage with a length of yarn for an engagement ring, and Libby, despite being married to another man, says yes. Then Paul can't get up off the floor, because of his old trick football knee! Nothing but laughs with these two.
And then there's Barton, who I'm finally ready to admit perhaps shouldn't have come back this season, because he continues to feel both wedged in and underused at the same time. This week, the young doctor who'd privately outed Barton as a wink-wink-nudge-nudge "classical music lover" invites Barton to the symphony, and afterward, they run into friends of the young doctor, but Barton bolts when the friends are a little too out and proud for his taste (he may have actually used the term "fancy friends"). The doctor resigns, and Betty has a conversation with Barton about tolerance. It is all exactly as after-school special as it sounds, and it's a waste of both Beau Bridges and Annaleigh Ashford. Again.
The episode ends with a bit of a twist; as it turns out, Nora, the overeager sex surrogate, really was too good to be true. She's in cahoots with the Bible thumper who's been haunting the lobby of the building where the clinic is all season long. I admit I can't help wondering what the two of them are up to, but not as much as I'm wondering about the bigger picture of this season, which wraps up in just a couple of episodes. I wonder where this season is going — it seems very strange to be unsure of that with so little time left — and more distressingly, I can't keep from wondering what the point of it all has been.