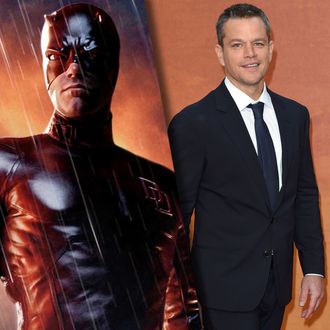 Could have been you, Matt!
Matt Damon is choosy is about his projects, and that's why, when Mark Steven Johnson was casting for 2003's Daredevil, he didn't go for it. "For [Ben Affleck and me] it was always Daredevil — that's the comic we read when we were kids," Damon told the Daily News. "But when that one came along I chickened out, because I couldn't tell. I hadn't seen the director work and I didn't know. So I just said, 'No.' Ben was like, 'I gotta do it.'" It was probably the right choice! Damon added, "And the movie ended up doing very well, even though I don't think Ben was ultimately very proud of it."
Damon said he would consider it again under the right circumstances. "If Chris Nolan came up to me and said, 'I want to do Daredevil,' I would be in." Of course, that's unlikely to happen: Marvel has expanded its Daredevil universe on Netflix, starring Charlie Cox as the blind vigilante hero, and Nolan is with Warner Brothers. Damon will just have to settle for killing people with ballpoint pens in the meantime.