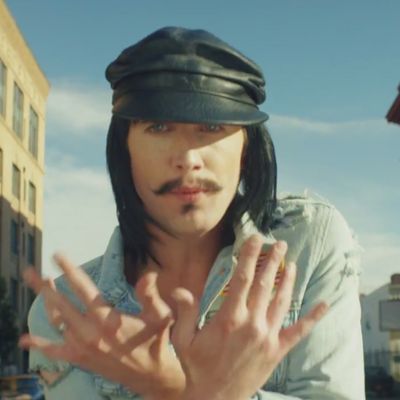 Macklemore and Ryan Lewis's latest hit, "Downtown," and its accompanying video raise a few questions: Are mopeds cool? Is the future of pop a line of slick, "Uptown Funk"–esque throwbacks? Is Ken Griffey Jr. an ageless being? Where have Melle Mel, Grandmaster Caz, and Kool Moe Dee been all these years? And who the hell is that mustached weirdo who steals the show at the chorus?
The answers: never, let's hope not, definitely, keeping it old-school, and Eric Nally, best known as the leader of Ohio rockers Foxy Shazam. Though Foxy Shazam started as a post-hard-core affair in 2004 — think the Blood Brothers performing West Side Story and you're in the right ballpark — Foxy slowly evolved into more of a rock-radio act with a wild (and wildly offensive) minor hit about "the biggest black ass," 2012's "I Like It." By that point, Nally had earned a reputation as the kind of front man who, for better or worse, decreasingly exists in rock and roll; with a soaring voice, he was trying to be Freddie Mercury, only more theatrical, if you can believe it.
As for the band's reputation as a whole, Foxy Shazam had a track record of total reinvention from album to album. They equally benefited from the production of the Darkness's Justin Hawkins (Guitar overdubs! Lots of falsetto! Glam!), who helmed 2012's The Church of Rock and Roll and "I Like It," as they did from Steve Albini (Live-tracked! Honest! Punk!), who produced 2014's aptly titled Gonzo. But their constant need for reinvention eventually led to the group's hiatus last year.
"Everybody in Foxy Shazam kind of felt like we had gotten to a point where, if we were to step into something right away, it wouldn't be what it needed to be in terms of changing it up and just being as good as we wanted it to be," Nally says. "The whole agreement was we were just going to take a break until that time was ready."
The time apart has given Nally time to spread his wings — and to get over an odd habit: At Foxy shows, Nally would constantly swallow lit cigarettes onstage.
"It's really been tough not to want a cigarette since Foxy stopped touring," Nally says. "I don't smoke, but I was getting a hit of nicotine when I ate the cigarettes every night onstage. It got to the point of, 'Hm, I should stop doing this. This is gonna kill me. Quite literally.'"
That freak-out performance style is actually what led to Nally's collaboration with Macklemore and Ryan Lewis: It turns out Lewis is a big fan of Foxy Shazam and their antics. When the rap duo had the idea for "Downtown" but needed someone to tie it all together in the chorus, Nally's discordant style came to mind.
"They called me and asked me to do the song based on them being fans of my work and me being a fan of them," Nally says. "We shared a trumpet player [Josh "Budo" Karp], who knew we'd get along. I wouldn't have gone for something I didn't feel good about. This just was right. My favorite part is when they came to me, they said, 'We want you to be you, we want you to do your thing. We don't want you to do something we have in mind. What you can bring to the table is what we want.' That really encouraged me."
The man who strolls in on a motorcycle chariot in the music video — "Ryan texted me, 'Have you ever driven stick before, a manual?' I said yeah, thinking it's gonna be a car" — previously co-wrote songs for Meat Loaf with Hawkins, where, in true Foxy fashion, he got the '70s rocker to belt lines like, "I can barely fit my dick in my pants." When he's not getting rockers his parents' age to say outlandish things, Nally is raising two sons with his longtime wife; several days after the VMAs, when I call him, he's back in Cincinnati mowing his lawn. He dubs himself a "lunatarian" — meaning he eats meat when it's a full moon, and is otherwise a vegetarian.
With a couple recent performances (the VMAs, The Tonight Show, no big deal), "Downtown" charged up a few charts last week and currently sits at No. 22 on the Hot 100; so it doesn't look like the song — or Nally — is slowing down soon. He's working on a solo album, has heard a few other new Macklemore songs ("I'm very excited for the world to hear what's coming, it's different but it's great"), and is already plotting Foxy Shazam's eventual reunion.
"I'm working on spreading my wings as a solo artist," he says. "I have a lot of different things planned with that, but I like to keep a mysterious vibe. Coming back to Foxy after that's done, it'll be a whole new ballpark. We could go even farther than we did with the last record."