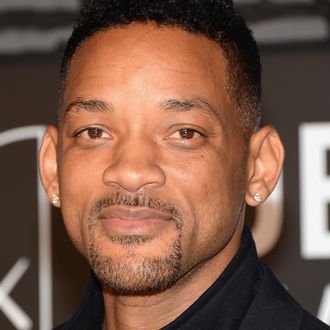 Will Smith, who probably won't be in it.
Photo: Jamie McCarthy/2013 Getty Images
Walter Parkes and Laurie MacDonald, the longtime married producers who have had a hand in titles such as The Ring, Gladiator, and American Beauty, among others, are still as busy as ever. They've got a Malala Yousafzai doc unspooling next month, as well as a Barbie adaptation at Sony and finance duties on Tom Hanks's The Circle. In a recent interview, THR asked the industry power couple about all of their current projects, but also took the opportunity to check in on a fan favorite: Men in Black. What does the future hold for the property? Isn't it about time MIB, like everybody else and their mother, was revived? Unfortunately, it's a future that doesn't look like it'll include Will Smith (and who knows about 21 Jump Street), but there's a confirmed, cryptic future nonetheless.
Here's the interview portion in question, via THR:

THR: You produced Men in Black. Has there been talk of reviving that franchise with the new Sony regime?
PARKES: We're in the middle of it. It's very active.
THR: Is Will Smith going to be part of it?
PARKES: Most likely no.
MACDONALD: It will be reinvented as a trilogy.
That was all the information given. A moment of silence, please, for Jay and Will — though, of course, there's hope for a cameo probably. This would be like rebooting The Matrix without Keanu. Oh. You can read the rest of the interview here.