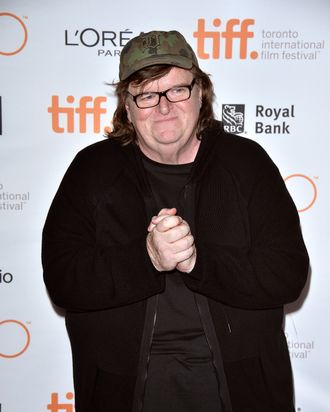 Michael Moore.
Photo: George Pimentel/Getty Images
Michael Moore has always been an emotional filmmaker, whether he's riled up about George W. Bush, big finance, the health-care industry, or America's culture of gun violence. But it was still surprising to see the director best known for gleeful indignation get repeatedly choked up at Thursday's late-night premiere of his latest documentary, Where to Invade Next.
The movie's title suggests a condemnation of America's military-industrial complex, but it's just a clever bit of sensational misdirection. Moore brought WTIN to the Toronto Film Festival without a distributor on purpose to avoid prying eyes, and has been vigilant about keeping the contents of the movie secret from both the public and the many studio heads and buyers in attendance. The clap-umentary (as in, you clap when Moore makes a point you agree with, which in this audience was often) turns out to be the story of Moore's army of one "invading," as he says, "countries populated by Caucasians, with names I can mostly pronounce," in an optimistic exploration of how they treat their citizens well and what we can learn from them. Things like Italy's standard eight weeks of vacation, or France's school lunches cooked with love and care, or Sweden's policies of no homework and no standardized tests (which have led to the best-educated nation on the planet). As the ever-measured New York Post put it, he's soft-selling socialism. "I think the press thinks Edward Snowden's coming on the stage," Moore said in his introduction. "We were digging for something else in this movie and it's called the American soul."
Moore explained after the screening that he'd grown disillusioned following the release of his last film, 2009's Capitalism: A Love Story. "I thought … that people were going to rise up and get involved or something," he said. "I'm tired of being the poster boy of Fox News and taking all this and doing this alone." He corrected himself: "I know I'm not alone." The protests before the Iraq War were heartening, as was Occupy Wall Street, but it was the Black Lives Matter movement, he said, that spurred him to "reenlist, basically, join up and be a part of what needs to happen."
Personally, Moore's been going through a lot. He turned 60, he got divorced, and his father passed away, all in the past two years. "That cliché about life being short, when you're 60, hey, that is kind of is true," he said. "I mean, I hope I have 30 or 40 more years to go and I hope they don't have to roll the tape of me saying that next week." He laughed. "That's why I wanted to show the movie first here in Canada. At least I get to see it once alive!"
His father's death, too, he said, "had a real impact on me in a way that I didn't think it would. I mean, we were very close. We had great parents, my two sisters and I. And I thought I would just be depressed for a year or more, and the opposite happened, actually. I felt after his death more alive and wanting to live. And I'm sure that's what he would like. I don't think he'd want me sitting around depressed for a year." The divorce, too, was in a way enervating. "Now I'm just my own self and it feels good," he said, "and I really appreciate the people that I'm around and the people who are my friends. I love them."
He got choked up.
The crew, he explained, is the same one that worked with him on Roger & Me and Bowling for Columbine. They worked for union wages and carried around an empty theater seat in their van as a stand-in for the audience, "because we consider you the 12th member of the crew. You're always there when we're making a film. We think a lot about that with everything that we do and how you will engage and be part of this process," he said. And got choked up again.
There was joviality, too. Someone in the crowd called for Moore to run for Canada's prime minister, which he declined. Moore also handed out applications to get a free college education in Slovenia and pencils made by Faber-Castle in Germany, which is featured in the movie as a factory that compensates its employees enough so that they're middle class. "Take these pencils made by people working 36 hours a week but paid for 40," said Moore, "and you better not call them at home or send them an email! They'll turn you in!" (When he came to TIFF 26 years ago for Roger & Me, he got detained at the Canadian border for trying to bring 2,000 lint rollers to give to the audience — that's what the car factory featured in the movie had switched to making.)
Later that evening, Moore awaited news on the film's sales front while being beset by well-wishers at the film's after-party. The number of studios interested, he said, were "in double digits. I mean, there were two or three I hoped would like it, but the fact that there are any beyond that is very cool."
When it sells, though, he's not going to celebrate, because he already has. "I was going over the Triboro Bridge this morning and I teared up," he said. "You never tear up going over the Triboro Bridge! Maybe if you come in at night and you see the city. I just felt so lucky and privileged and blessed to be able to do this. I never take it for granted that I'm able to make movies or get to make movies, and that I got to make this movie and to do it in the year after my dad's death and the year after I got divorced, these are times that people have every right to kind of fall apart a little bit."
And despite everything he's seen around the world, he's not moving overseas, because what he saw only made him fonder of his home country and more optimistic about our ability to change. "I want to stay and make it happen here," Moore said. "I want that here. I'm not going anywhere."
Then he plunked down in a chair and got something to eat. It had been an emotional night.