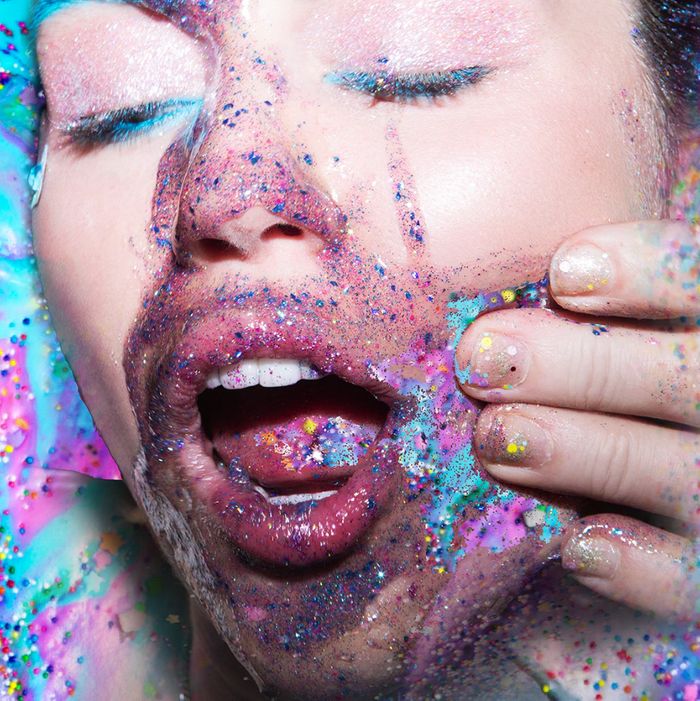 Last spring, while she was off touring the world, Miley Cyrus's beloved husky, Floyd, was eaten by coyotes. I caught the tour a few nights later, when it hit Izod Center, and was transfixed by what I saw: Something about this misfortune seemed to have broken Cyrus open — made her stranger, sadder, and less inhibited than your typical pop-star at the helm of a giant, well-oiled arena show. The performance was alive with messy emotion. She actually cried when she sang her love songs, like the slurry, Mike WiLL–made ballad "My Darling" … partially because she was singing them to a humongous, inflatable replica of her dead dog. To call the night surreal is a bit of an understatement. At best, the Bangerz Tour had the feel of a Dada performance co-sponsored by American Express — where wild imagination (or, at least, truckloads of weed) met a blockbuster budget. It was a blast. When it was all over, which is to say, after Cyrus rode into the rafters while straddling a giant "scream-activated hot dog," I left the venue feeling energized, inspired, and convinced that, with her avant-garde take on female sexuality and her gleeful, absurdist humor, Miley Cyrus was rewriting the script for the modern pop-star.
But after listening to her latest album, Miley Cyrus & Her Dead Petz (RIP, Floyd, as well as her late blowfish, Pablow), I am less enthusiastic. Or maybe I am just tired — this 23-track album is 92 minutes long, and it easily feels twice that length. Songs meander and build to nothing. Melodies sag. Themes (weed; sex; the universe, man) recur so frequently that it's often hard to distinguish one track from the next. A song called "Space Boots" comes right after a song called "Something About Space Dude." I feel like this fact tells you a lot about the overall vibe of Miley Cyrus & Her Dead Petz.
Because she released it without a traditional promotional campaign, announcing its existence at the end of her awkward hosting gig at the 2015 VMAs, Miley Cyrus & Her Dead Petz is what I guess we are still insisting on calling a "surprise album." Except that if you are one of the 27.9 million people who follow Cyrus on Instagram, very little about this album is surprising. (We've known for a long time that she's been in the studio with some of its collaborators, and in a recent Marie Claire cover story, she even spoke about some of the new material. Beyoncé this was not, exactly.) Sure, the lo-fi indie-rock sound of Dead Petz is a far cry from the expensive pop polish of Bangerz — the album that spawned radio and YouTube megahits "We Can't Stop" and "Wrecking Ball" — but over the past two years, Cyrus has been taking her public image in a decidedly more psychedelic direction, with Flaming Lips front man Wayne Coyne playing some sort of dystopian version of what the Maharishi was to the Beatles. Some of the left turns Cyrus has taken since Bangerz have been quite fruitful: Her advocacy work for homeless LGBTQ youth, bolstered by her Happy Hippie foundation, feels refreshingly genuine; her musical web series The Backyard Sessions has featured great collaborative performances with the likes of Joan Jett and Laura Jane Grace from Against Me!, showcasing the rock-ish grit that was always lying dormant in Cyrus's voice.
Miley Cyrus & Her Dead Petz is the logical result of all these transformations. Released outside of her label deal with RCA and produced largely by Coyne and his band of merry pranksters, Cyrus seems to have envisioned Dead Petz as a bold declaration of creative independence from the pop game — a handwritten, doodled-upon love letter to freedom in all its forms. Unfortunately, Cyrus too often feels like she's recycling the old, generic signifiers of freedom and rebellion, rather than rebelling against anything specific and identifiable. "Yeah, I smoke pot! Yeah, I love peace!" she chants on the album's garish opening track, "Dooo It." A short while later, she adds in a line to let us know that she is pro-hallucinogens, too: "I feel like I am part of the universe and it is part of me." The whole thing feels like a missed opportunity to actually make a statement. A friend pointed out that we should cut Cyrus some slack because she made this record during the years that, had the former Hannah Montana star had anything resembling a normal childhood, she would have spent in college, ripping bong hits and musing about the cosmos. That makes sense. Dead Petz often feels like the sonic equivalent of a John Lennon dorm-room poster, purchased from the campus store with a parent's (or, perhaps in this case, an eccentric uncle's) credit card.
Maybe that's too harsh. I don't want to write the whole project off, because there are actually a few moments where Coyne's influence benefits Cyrus. A few of these songs, taken out of context, are actually lovely. The second one, "Karen Don't Be Sad," is simple, glum, and sweet — a Beatles-esque ballad that sounds like the Lips would have had Miley fronted them circa Yoshimi Battles the Pink Robots (you know, back when she was 9). "Slab of Butter (Scorpion)," which features Sarah Barthel from NYC electronic duo Phantogram, recalls the spacey, collagelike funk of Beck's Midnite Vultures. ("I feel like a slab of butter that is melting in the sun," Cyrus drones; the liquifying bass line follows suit.) But one of the record's highest points (do I even need to say "pun intended"?) is "Lighter," a collaboration with her Bangerz collaborator Mike WiLL Made-It. It's a shape-shifting atmospheric on an '80s power ballad — think Berlin's "Take My Breath Away" with a body high — that contains some of the record's sharpest (only?) emotional insight. "I heard we never truly see ourselves," Cyrus sings over pulsing synths. "You've gotta leave it up to someone else to know how beautiful you really are."
But on the whole, Dead Petz is a difficult record to enjoy — or even endure. This is not so much because of its willfully amateurish sound (which, on songs like the scrappy pop "I Forgive Yiew," has a certain charm) but because of a strange conservatism it projects onto the listener, whom Cyrus presumes to be offended by her "adversarial" identity of weed-smoking, acid-dropping, sexually active "fweak." (Her spelling.) But, unintentionally, this conservatism reflects back onto her. Dead Petz is a record that presents "liking to get fucked up" as an unchangeable facet of identity rather than a transient phase that almost every young-adult human goes through; it treats sex and drugs as things to giggle about (Cyrus lets no opportunity to make a weed joke pass her by: "You take me higher than I've ever been before / Don't laugh when I say that 'cause we just smoked a bowl") rather than pretty mundane aspects of adult life. There's an unchecked impulse toward juvenilia running through this record. The song "BB Talk" — a weird, overshare-y ballad making fun of a lover who likes to indulge in baby talk — is deeply ironic because Cyrus is often guilty of just that: Look no further than "Milky Milky Milk," a borderline-unlistenable song about sucking somebody's nipples, which slows down the title phrase to an embarrassingly goofy repeated refrain. And with all due respect for the soul of Floyd Cyrus, Dead Petz's musings on spirituality are equally puerile — about as deep as a freshly knotted Kabbalah bracelet. There is a song called "Miley Tibetan Bowlzzz" (get it?!), which, quite literally, features Cyrus chanting "om" and playing Tibetan bowls. The sun is just a giant spaceship tangerine, we are informed at one point. An unfaithful lover is warned: "You're lucky I'm doing my yoga or you might be dead." At nearly every stretch, Miley Cyrus & Her Dead Petz sounds like Madonna's Ray of Light, had it been made by a 14-year-old who just downloaded a free 30-day trial of Audacity.
In theory, Dead Petz is a noble project, striving for spiritual insight, carnal pleasures, and creative liberation. But if the Buddha were actually to appear before Miley Cyrus — as I'm sure he has already, during one trip or another, likely in the corporeal form of Gumby — he would tell her that she's already got all the things she's striving so hard for. Which is to say that the Buddha would out himself as someone who has listened closely to Bangerz. That record got short shrift at the time because Cyrus's antics too often overshadowed the music, but now that the hype has died down, it's easier to appreciate as one of the best pop records of the decade. Even though its musings are contained within tighter pop structures, it, too, is a record about freedom, sex, and liberation. "#GETITRIGHT" is a fun, deeply felt ode to female pleasure, at once subtler and sexier than Dead Petz's very on-the-nose (God, my fingers cramp even to type this title) "Bang Me Box." The dripping, surreal "We Can't Stop" was one of the most psychedelic songs to hit pop radio in ages. "Wrecking Ball" is a better rock song than the Flaming Lips have written in about 12 years. If anything, Dead Petz is an invitation to revisit Bangerz and appreciate it for what it is.
In a New York Times interview about the making of Dead Petz, Cyrus said her team of advisers "said they'd never seen someone at my level, especially a woman, have this much freedom. I can literally do whatever I want." Absolute creative freedom is appealing in theory, but in practice, it often leads to unlistenable self-indulgence, the kind into which Dead Petz too often slips. Still, I don't think it's exactly the career-killer some people will want to label it; I suspect it's something Cyrus had to get out of her system before finding a more mature middle ground between shapelessness and structure. Maybe next time she'll take what she's found out there in the cosmos and turn it into something we can all enjoy.
*A version of this article appears in the September 7, 2015 issue of New York Magazine.