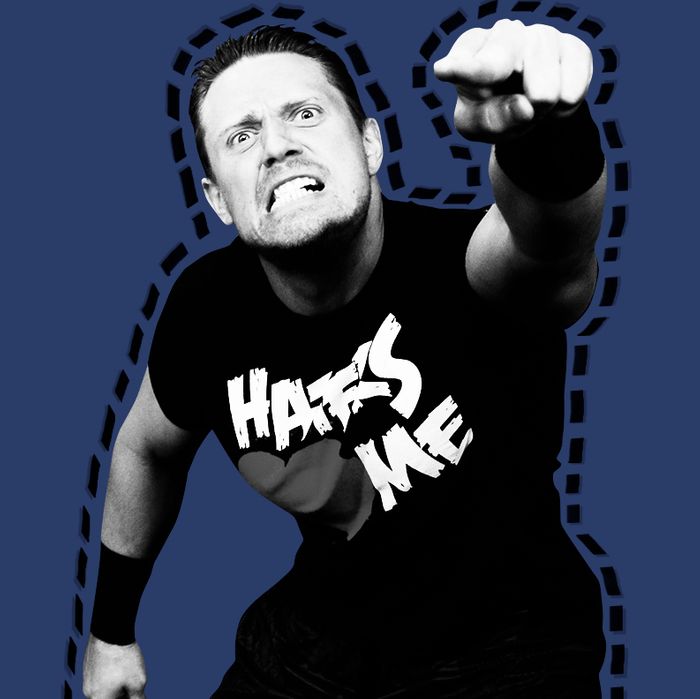 Photo: Vulture Illustration and Photo by Getty Images
All week long, Vulture explores what happens to reality TV contestants after the show ends — and the future of the genre itself.

If you didn't know, or haven't watched professional wrestling for the past decade, WWE superstar the Miz is awesome — at least in his own mind. He is also, irrefutably, the alter ego of former Real World: Back to New York cast member Mike Mizanin, who made waves back in the pre–social media days by demonstrating some seriously mortifying life inexperience. And also by proudly proclaiming his adoration for professional wrestling, then at the height of its mainstream popularity. His roommates, not to mention millions at home, shook their heads in pity when poor Mizanin would hoist self-fashioned championship belts overhead and stomp around The Real World proclaiming himself the unconquerable Miz.
Well, the joke was on us, because after a handful of triumphant stints on assorted MTV The Challenge spinoffs, Mizanin invested his time and money into making that apparent pipe dream an ultimate reality. In 2006, following four years of training, he debuted on WWE television as the Miz. Since then, he's main-evented WrestleMania, slung the actual Heavyweight Championship strap over his shoulders, and parlayed his charisma into top billing on a string of made-for-TV and home-video movies. The question, then, is how did the most unlikely candidate to transition famously from reality into entertainment make it happen? More pressing, how can the genre's current multitudes of celeb hopefuls follow in his awesome footsteps? Behold, the Miz's guide to surviving reality and succeeding in showbiz.
Go Big or Go Home
"When I was on The Real World, I moved back to Cleveland, and I had a choice: My dad was like, 'You should stay in Cleveland and be the big name out here.' I was like, 'But no, Dad, I wanna be a WWE superstar.' He was like, 'What are you talking about?' I looked on Yahoo and found wrestling schools all over America, and I wanted to find one that was in Los Angeles, 'cause I wanted to not only prepare myself for WWE, but I wanted to take acting classes, improv classes — get all the tools I would need to become a WWE superstar. Not only that, I wanted to do as many reality shows as I could so I could get my name out there, because WWE might be able to see that and say, 'Hey, not only is this guy on TV, but he has a following.' I moved from Cleveland to Los Angeles in a matter of a month."
Burst the Reality Bubble
"I didn't want to be the 40-year-old still on MTV doing Real World. I loved the show. I loved the people on it, but I had a different set of goals. Some people just wanna be famous. I wanted to be known for a talent. I wanted respect. The thing about being on a reality show is you'll never get respect. You're living your life on television. You're not doing anything special. I felt like I had more to offer, and that's why I went the way I did."
Have the Right Representation
"I was getting paid to do motivational speeches. It was getting saturated at the time, because there were ten Real Worlds, so there were 70 people fighting for the spot. What did I do? I made sure I had as many agents as I could for those motivational speeches, and I made sure I called them every day to make sure they were working for me to get things done. Some people just sit on their butts and say, 'It should all happen to me. I'm entitled.' I wasn't like that. I knew I needed to make as much money as I could so I could get where I needed to be. Once you're on a reality show, you don't want to work at Saddle Ranch over on Sunset. You wanna be able to work in something where people would recognize you and go, 'Oh, he's a superstar, not a waiter.'"
Don't Be Seacrest
"When I first came to WWE, I was told I was going to be the host of Friday Night SmackDown, and if you wanna be a WWE superstar, the worst thing you can be told is they want you to be the Ryan Seacrest of the WWE. I said, 'Ya know what, they're gonna give me a microphone. If they give me a microphone, I can make an audience boo me or cheer me.' That's how I proved myself [as a WWE star]."
Exploit Thy Talent, Not Thyself
"You have to know what your talent is, and you have to exploit it. And then, while you're exploiting that talent, you find ways and tools to elevate other sides of you that are weaker. I wanted to make sure people looked at me as a legit WWE superstar, that it wasn't just my mouth, that I could do what everyone else could do in the ring."
Find the Fine Line
"When you come from a reality background into the WWE, you're looked at as a terrible human being. The fans are like a fraternity, and you have to earn your respect there, and a kid coming from The Real World is not gonna gain too much respect. So I used that and said, 'Oh, I could just be the most-hated person in WWE. This is gonna be real easy.' But you don't ever wanna make anything old and beat it to death. You gotta find that fine line where you say, 'Alright, now I can start going another way.'"
Endear Yourself to the Higher-Ups
"It's all a matter of how you work it. Say you go on Bachelor, and you meet all the execs, and they really love you, and they go, 'You did such a great job on this show, now you're gonna be [the star of] The Bachelor.' Then, when they do The Bachelor, who's to say they don't meet another exec? Or an agent or manager sees you and says, 'Hey, we're gonna put you on a new show.' It's all who you know. If you have the talent, use that talent to do something else. Hell, look at Dave Giuntoli. He was on Road Rules, and now he's the star of Grimm. These things can happen. Are they gonna happen to everybody? Hell, no. But if you work hard and know what you want and know how to do what you can do, then it's gonna happen."
Never Get Comfortable
"If you succeed at a goal, make another one, and make it even bigger. My goal now is to win an Oscar. When I say that, people laugh at me. When I said I wanted to be a WWE superstar, they laughed at me. When I said I wanted to main-event WrestleMania, they laughed at me. So far I've been able to prove them wrong, and that fuels my fire. Now I need to find the tools to get me where I need to get next. I make goals that everyone else thinks are unattainable, but I know I can do it."