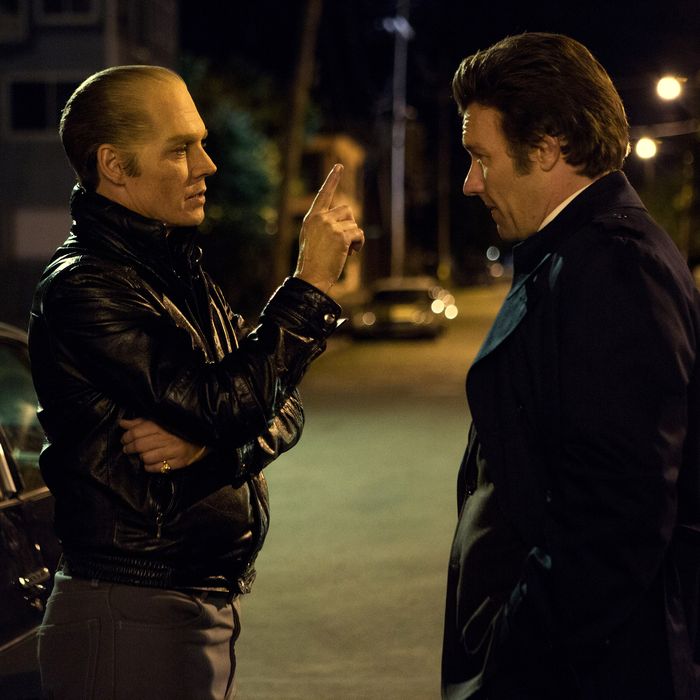 Photo: Claire Folger/Warner Bros.
Last year's documentary Whitey: United States of America v. James J. Bulger lacked only one element, but that one was a doozy: footage of its subject. "Whitey" Bulger (don't call him that to his face!) might have been one of Boston's most notorious mobsters, but the director, Joe Berlinger, had to rely on first- and secondhand reports of his demeanor to bring him to life — and those reports didn't quite do the job. Whitey is also a void in Black Mass, the new dramatized Bulger film. Johnny Depp makes a valiant stab at the part, but even with his hair thinned and lightened and his face hardened, Depp remains Depp: I never forgot I was watching a big star doing an impersonation. It's as if the spirit of a psychopath like Bulger resists the camera. Or maybe the movie isn't imaginative enough to penetrate his shell.
The script, by Mark Mallouk and Jez Butterworth (based on a book by former Boston Globe reporters Dick Lehr and Gerald O'Neill), uses a creaky framing device: Captured Bulger associates tell an interrogator stories. There's no tension between perspectives: What we're told is what there is to know. It's decent journalism — one thing after another, the major events ticked off — but turgid dramaturgy. The director, Scott Cooper (he made the Jeff Bridges alcoholism musical Crazy Heart), brings little to the material but good pacing and obvious fealty to his leading man. The actors in smaller roles have lived-in faces that help you suspend your disbelief, but Boston-accent-affecting stars like Joel Edgerton (an Aussie) and Benedict Cumberbatch (a Brit) throw you out of the film. You learn stuff, but you don't understand it. There's no controlling idea.
Despite his wobbly accent, Edgerton isn't bad. His character, FBI agent John Connolly, is the movie's dramatic fulcrum — the only character with a real arc. What makes the Bulger story different from other gangster yarns is the peculiar alliance between Connolly and Whitey. They grew up in the same working-class neighborhood, where Bulger was idolized — even as a youth — for his fearlessness. Connolly revered him, too, and reached out to "Jimmy" — through Whitey's younger brother, William (Cumberbatch), a legit Boston political force — when Connolly returned from a Midwest posting. He wanted Whitey as an informant. He wanted the inside line on Whitey's "business" rivals, the Italian mob.
Black Mass is too shallow and clunky to bring out all the forces at work on Connolly's psyche. He evidently saw a way to achieve instant status in the eyes of Whitey, a childhood hero. He also saw a way to achieve instant status in the FBI with a source to beat all sources. He saw a way to make the bust of a lifetime — the Angiulo brothers, of the North End's Patriarca family. There's no indication that, in the beginning, he saw a way of getting rich, although as money began flowing his way, he did little to turn off the spigot. There's no indication that he imagined himself, in the beginning, as an accessory to murder, alerting Bulger to informants whom Whitey would subsequently eliminate. It's a story of how one compromise forces another and another — a cautionary tale more interesting than Whitey's.
Genuine — clinical — psychopaths aren't really that interesting. Their motives are pure — no pesky dramatic tensions. They have no empathy, so they feel no guilt. They lie well enough to pass lie-detector tests — confidently, calmly. To Depp's credit, he doesn't soften the man, try to find a bogus core of "humanity." He nails Bulger's watchfulness, the way Bulger saw the world only in terms of power relationships. He has a couple of amazing scenes in which he feigns courtliness — even empathy — before he menaces or kills. One, opposite Julianne Nicholson as Connolly's increasingly repulsed wife, is the movie's highlight; when he strokes her face, you can feel it on yours, an inch from your throat. Depp's integrity is impressive.
But he's rusty. Superstardom borne of hambone impersonations and the overidealization of gonzo — in the form of the late-life, sybaritic Hunter S. Thompson and the late-life, sybaritic Marlon Brando — halted his evolution as an actor. (His Whitey looks like a sober Thompson.) Almost everything he does seems in quotation marks. Early in the film, there are scenes with the mother (Dakota Johnson) of his child that threaten to show Whitey from another vantage, but they're largely there to make plot points, and there's nothing in the film of Catherine Greig, Bulger's companion in hiding for 16 years.
Some of this wouldn't matter if Black Mass had been shaped with more cunning. (Why is it called Black Mass? There's zero indication in the film itself.) A major, major event centers on Deborah Hussey, the mistress of Bulger's associate Steve Flemmi (Rory Cochrane), and Juno Temple hits a couple of touching notes in her brief screen time. But apart from a glimpse of Hussey early on, we have no idea she even exists until Bulger decides she's a threat. Everything about her — and Flemmi's affection for her, and the way in which Bulger keeps tabs on his associates' personal lives — is shoehorned into one potent but ill-prepared scene. Deborah, we hardly knew ye.
Lots of recognizable faces pop up, among them Kevin Bacon as an officious FBI honcho and Adam Scott his undemonstrative underling. David Harbour has a few good, quavery scenes as one of Connolly's partners, who knows more than he wants to about Whitey's murders, and so does the ubiquitous Peter Sarsgaard as a putz who knows he's a dead man walking and desperately tries to rat Whitey out. Jesse Plemons, of Friday Night Lights, Breaking Bad, and Fargo, looks convincing as a Bulger functionary, his nose extra-squashed. (The role isn't a stretch.) There are no real embarrassments apart from Cumberbatch. There are some British actors — wonderful, wonderful actors — who simply can't sound American, and the banks of the Neponset River are metaphorically lined with the corpses of those who've perished in their attempts to do South Boston accents. Cumberbatch's nasal head voice is not the worst I've heard, but it's pretty close.
Some critics have suggested that Black Mass is a Whitey-wash, insofar as Depp makes Whitey seem utterly clueless of his own psychopathology. I'd actually like to have seen that movie — one that brought out the self-blindness of those we label "evil." But Black Mass doesn't risk that much. It's just the facts, ma'am. And facts have a way of stopping at the water's edge just when you want to go deep.