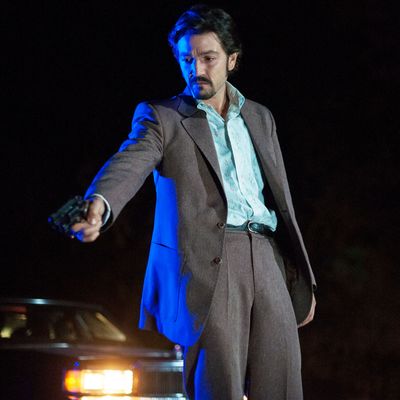 Diego Luna in Netflix's
Narcos: Mexico
.
Photo: Carlos Somonte/Netflix
Narco traffickers are having a cultural moment. In addition to the trial of Mexican drug lord Joaquin "El Chapo" Guzmán now underway in Manhattan, there's the coincidentally timed premiere of Narcos: Mexico. The new season of the Netflix series follows the ascent of cocaine kingpin Miguel Ángel Félix Gallardo, with whom El Chapo got his start in the 1980s.
Of course, the Mexican outlaw oeuvre known as narco cinema has been training a lens on drug dealers for decades. "Videohomes" — cheap, underground B-movies, often bankrolled by narcos and produced in a matter of weeks for VCRs — became popular with working-class audiences on both sides of the border in the '70s and '80s. They tell over-the-top tales of drug dealers, corrupt cops and politicos, hookers, and truckers, and are sometimes based on songs known as narcocorridos, written and sung by norteño bands like California's Los Tigres del Norte. (You can hear Los Jilgueros del Pico Real's "Corrido a Félix Gallardo" in Narcos: Mexico.)
Narco cinema was so influential that it seeped into mainstream Mexican films, like the successful comedy Salvando Al Soldado Pérez (a spoof of Saving Private Ryan about a drug lord's MIA brother in Iraq), art-house films like Miss Bala (which is getting an American remake starring Gina Rodriguez), and "narconovas" — a.k.a. telenovelas about the drug trade. It has also been appropriated by American directors like Robert Rodriguez and Oliver Stone. More recently, Mexican cinema has dealt less with narco fiction, opting instead for documentaries like Tatiana Huezo's Tempestad and Everardo González's Devil's Freedom that show the drug war's human toll. But if coverage of the El Chapo trial and Félix Gallardo's Narcos exploits have left you curious about the film genre, here are ten of the best vintage "videohomes" in chronological order, compiled by narco-film expert Carlos A. Gutiérrez, co-founder and executive director of the New York City–based Latino film association, Cinema Tropical.
Contrabando Y Traición, a.k.a. Camelia La Texana (Arturo Martínez, 1977)
Based on the Los Tigres del Norte song "Camelia la Tejana" — the track that's credited with popularizing narcocorridos —  the movie follows a drug-smuggling couple, Emilio (Valentín Trujillo) and Camela (Ana Luis Peluffo), who carry a load of marijuana to Hollywood. The story was also made into a narconova.
Another Los Tigres del Norte's narcocorrido inspired this crime drama, which stars two of narco cinema's most popular actors, brothers Mario and Fernando Almada, as the Quintana siblings who become drug traffickers and form the "red car gang."
Death in Cold Blood stars the late Valentín Trujillo (who also appears in La Banda Del Carro Rojo), one of Mexico's most celebrated actors. This movie was directed by Trujillo's uncle.
Based on a Los Cadetes de Linares narcocorrido, the Almada brothers star in this story about the adventures of several sicarios, a.k.a. cartel henchmen.
El Traficante (José Luis Urquieta, 1983)
El Traficante follows the rise and fall of drug trafficker Rodolfo Cavazos (Armando Zermeño). Fernando Almada co-stars, and the film was so popular that it later spawned a sequel.
After her father is killed for not letting a powerful cartel use his truck, beautiful Lola (Rosa Gloria Chagoyán) inherits the vehicle and exacts revenge. The Lola character became an icon of Mexican pop culture. Emilio "El Indio" Fernández, one of the great filmmakers of Mexican cinema's golden era, has a supporting role as the drug lord's bodyguard.
Masacre En El Río Tula was inspired by a horrific true story from 1981, when 12 mutilated corpses were found on the outskirts of Mexico City.
Lo Negro Del 'Negro' (Benjamín Escamilla and Ángel Rodríguez 1987)*
Based on the best-selling book of the same name (which translates to The Dark Side of 'Blackie'), the film details the corrupt administration of infamous Mexico City police chief Arturo "El Negro" Durazo, who reigned from 1976 to 1982.
This action-packed flick starring Mario Almada and Lucha Villa tells the story of Eduardo Lobo, the "iron prosecutor" sent to Monterrey to battle evil Ramona Pineda and her family. The movie was inspired by Mexico City cop Salvador del Toro, who was sent to Nuevo Laredo in the early '70s to clean up the city.
Based on another Los Tigres del Norte narcocorrido and starring the Almada brothers, this action-packed story centers on the youngest member of an incorruptible police family who's seduced by a woman working for a trafficker into moving drugs with his gray van.
*Lola, La Trailera and Lo Negro Del 'Negro' aren't 100 percent narco cinema because they were made with bigger budgets, but they were very popular and greatly influenced the genre.