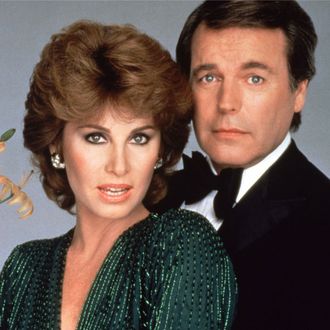 The original Hart to Hart.
Photo: Sony Pictures Television, Inc
The Harts are going gay. Deadline reports that NBC is currently developing a gay remake of the early '80s ABC show Hart to Hart, which starred Robert Wagner and Stefanie Powers as jet-setting sleuths. In their stead would be Jonathan Hart and Dan Hartman, a crime-solving power couple with Hart as the straitlaced attorney, and Hartman as the freewheeling investigator. Opposites attract — even for gay people! Carol Mendelsohn, best known for producing the CSI franchise, is working on the show, alongside scriptwriter Christopher Fife (Revenge and Private Practice). The project is currently just in development, though, which means it's still a long way from getting a pilot — and, more specifically, becoming a full-fledged show on network television. However, if it surmounts all of those hurdles, NBC's Hart to Hart would be the first gay remake of a classic on a major network.
As demographic shifts continue, it makes sense that popular culture would retrofit classic stories for a contemporary context. Comics have generally been more attuned to the shifting cultural tides, for instance, making the new Green Lantern a gay man (among rebooting many other characters with different ethnic backgrounds). On television, though, the remake/reboot boom has mostly kept it fairly straightforward: Fuller House, The X-Files, and Heroes are staying in the same worlds. There are some examples that are close, but don't quite fit the bill: The character Teddy Montgomery came out as gay in the CW remake of 90210, and Mulan declared her love for Princess Aurora in ABC's Once Upon a Time. The best example may yet to come: The creators of the Jem and the Holograms remake said that they decided to make Kimber and Stormer lesbians.
But it's also possible that the gay remake has been standing right in front of us this entire time. Netflix's remake of House of Cards has stealthily made much of the narrative about Frank Underwood's sexuality, which isn't heterosexual, to say the least. While it's not clear enough to call it a "gay remake" (regayke?), it has, let's say, homosexual tendencies.