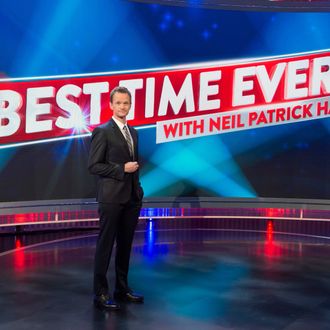 Photo: irginia Sherwood/NBC
Neil Patrick Harris's heavily hyped Best Time Ever is not going to be the kind of instantly successful, game-changing hit executives at NBC hoped they would be getting when they shelled out big bucks for the project. Despite following the performance finale of America's Got Talent, the summer's most-watched show, the premiere of NPH's BTE settled for a modest opening audience of 6.8 million viewers. NBC touted this as the "best" unscripted premiere on the network since 2012, but that's not much of a boast, given the lack of big unscripted hits on the Peacock of late, and the fact that BTE was inflated by its scheduling behind AGT. Indeed, in the 9:30 p.m. half-hour leading into BTE, NBC drew 11.7 million viewers, but NPH's show immediately lost a huge chunk of that audience: BTE fell to 7.8 million viewers at 10 p.m., and dropped another 25 percent at 10:30 p.m., to 5.8 million. This is not the sort of ratings performance that signals audiences are embracing a new show — but it's also hardly the worst night ever for a new show, nor a reason for NBC execs to panic. At least, not yet.
One positive sign for NBC was that BTE did a bit better with younger viewers than with the audience at large, which is exactly what the network was hoping. Among adult viewers under 50, the new show notched a 1.9 rating out of AGT, losing about a quarter of the latter's lead-in. (By contrast, among all viewers, BTE dropped by nearly 50 percent from AGT.) Harris's new show will also be introduced to an even younger — and possibly bigger — audience next week, when its second episode airs after a special two-hour Tuesday episode of The Voice. Overall TV viewership will spike next week as the new season officially begins, allowing BTE to get sampled by even more viewers. Unfortunately, BTE will then move to its regular time slot on September 29: Tuesdays at 8 p.m., directly opposite CBS's viewer juggernaut NCIS and ABC's unproven but likely to be sampled The Muppets. The bar will be low for BTE, but without any lead-in, its audience is likely to shrink even further. If BTE were simply a new unscripted concept that NBC developed in-house, and attached, say, Carson Daly, to host, a "decent" performance could be scored as a win for the Peacock. But NBC outbid several other networks to land the rights to BTE, which is a close adaptation of the British series Ant and Dec's Saturday Night Takeaway. It did so by agreeing to pay a very large license fee to get the show (and Harris, who has always been attached to the project). That means that in order to make any money on Best Time Ever, ratings for the show can't afford to go any lower — and may even need to trend higher over its eight-week run.