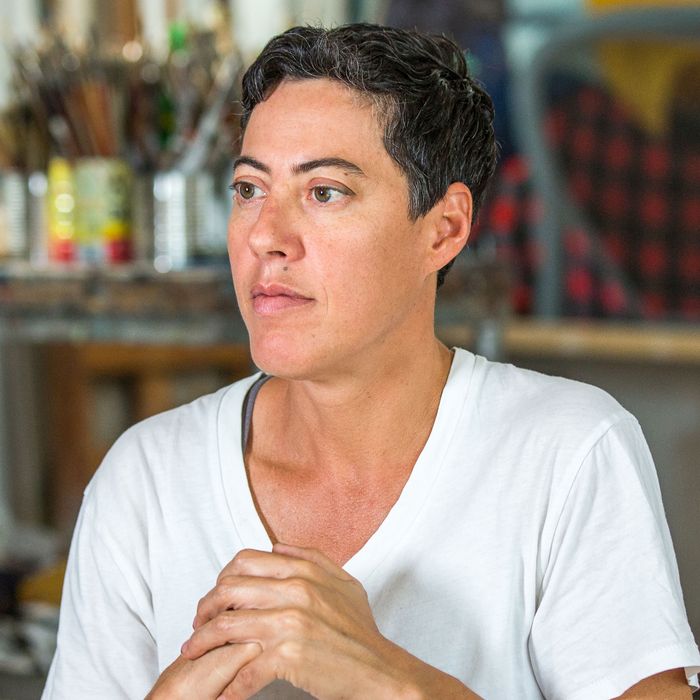 Nicole Eisenman at her studio in Brooklyn.
Photo: John D. and Catherine T. MacArthur Foundation
The MacArthur "Genius Grant" winners were announced yesterday. For many of us self-involved art-world egomaniacs, we wake up, read the list of winners, and think, OMG! What? Him? Her?  Yesterday I woke up, read the list, and, when I saw the name of 50-year-old New York artist Nicole Eisenman (in addition to the excellent LaToya Ruby Frazier), I was over the moon. Yay!
Eisenman has been showing in New York since the early 1990s. I remember shows at a Soho walk-up loft on Broadway, at a gallery run by painter Nicole Tyson, and later at Jack Tilton Gallery, gaping at huge, painterly wall-murals done in quasi-WPA style, featuring, for example, naked Amazon warrior women atop horses, raiding and killing men smiting a Picasso-like minotaur. There were S&M lesbian bars, a mural of a race car with a woman driver and a butch pit crew. Lesbian Kissing Booth was just that. The 1995 Whitney Biennial had her massive mural depicting the Breuer Building collapsing and hundreds of men trying to escape the wreckage.
Eisenman was using an incredible skill-set, fairly traditional in many ways, and for years turned out pointed paintings on paper, collages, pictures of sexism and lesbian love. I always looked forward to her shows. But for a while, by the late 1990s, I thought she might be stuck in a cartoonish rut, not exploring the full pictorial range and implications of her vision, and not delving into the seat of tradition itself: painting. I was thrilled when she kicked into high painterly gear a little after the millennium, doing all those things that had gone semi-undone. Since then she has only gotten better and braver, bringing turbulent fields of figures into elemental motion in compositions that echo Post-Impressionistic picnic scenes as well as German Expressionism. Her paintings of single large deformed heads and faces loom like ancient masks. All this while microtonal color flickers, producing nuanced scrims and planes of space that morph into generative optical topologies.
Setting aside how much I think that Eisenman's work has improved over the last ten years and how much energy radiates off her paintings these days, Eisenman feels like a real one of us artist, someone I see around at openings and galleries a lot, always available to emerging artists, seeming to mentor a generation of women artists who are now navigating an incredibly treacherous art-world system still subtly rigged to let them only so far in but no further. Eisenman deserves a MacArthur; the art world is lucky to have her.