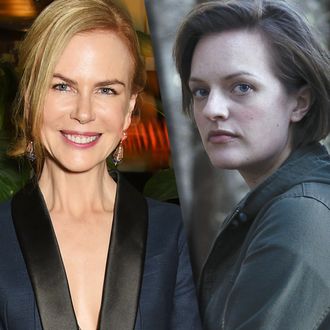 Nicole Kidman, and Elisabeth Moss in Top of the Lake.
Photo: Getty Images/Sundance
Back in 2015, Nicole Kidman was reportedly joining the upcoming second season of Top of the Lake. Then she wasn't. Then she was apparently back in again, which means the project will have an Australian star to go along with its new Australian location. (The casting of American Elisabeth Moss in the lead role led to behind-the-scenes drama for the show's first go-round.) Director Jane Campion confirmed the Kidman news in an interview with Premiere, saying only, "Nicole Kidman will [be] in season two … I am working on scripts and I have a role for her." (Never one for undue sentiment, Campion.) The nature and size of that role is unknown, though Kidman did hint that she enjoys playing "odd people, who live odd lives." Can she top "leader of a radical-feminist separatist commune"?
Update: In case there was any doubt, Deadline reports that Nicole Kidman has officially joined the cast, arriving in Sydney for filming this week. The new season, titled Top of the Lake: China Girl, finds Moss "investigating the case of an unidentified body which washes up on Sydney's Bondi Beach." It's early days yet, but we're going to say that Kidman did it.