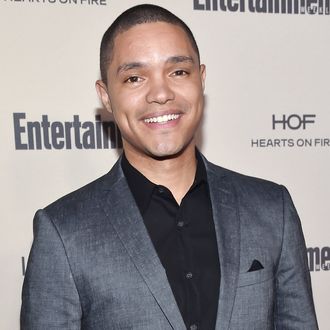 Your new Daily Show host.
Photo: Alberto E. Rodriguez/Getty Images
Trevor Noah is all staffed up and ready to go, but are his correspondents ready? After learning from his own experience when internet sleuths went digging into his Twitter past, Noah had his team go through the old tweets of his new hires. In an interview with the New York Times, Noah said, "When we hired the new correspondents at the show, they asked me, 'Have we checked their social media?' I said, 'This is a good exercise: You go through every single tweet and tell me what you think we should get rid of.'" What they found was that it was difficult to tell whether something was offensive or not.

"People came back to me: 'I don't know, is this offensive? Is this not offensive? Is this bad?' Exactly. You do not know what may or may not offend somebody." As for his own experience with past tweets coming back to haunt him, he sees it as an example of growth. "People go, 'Trevor, you should clean your tweets.' I go, I cleaned my life — I tried to grow as a human being. Someone goes, 'Yeah, but you wrote this in 2009.' I go, well, thank God I didn't write it in 2015. That to me is progress." To the desk!