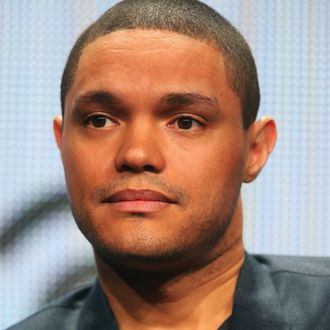 Photo: Frederick M. Brown/Getty Images
Vanity Fair's spread* featuring late-night hosts might have left out poor Chris Gethard, but there was a more glaring absence: Women. Incoming Daily Show host Trevor Noah, however, thinks the photo shoot provides an incomplete view of what's going on in the world of comedy. "I don't agree with the notion that there are no women in comedy," Noah, one of the ten men in the spread, told Newsweek. "I would even argue that women are more powerful than men in comedy right now." He goes on to cite a number of female comedy superstars: Melissa McCarthy, Amy Schumer, Tina Fey, and Amy Poehler.
While there is certainly no lack of female comics right now, the dearth of women in late-night is still striking. Noah, however, is optimistic this will change. "Yes, that Vanity Fair [spread] is all men, which is what it is," he said. "But I guess what we need to look at is how is that evolving? The first step in that is you go, OK, there's two men of color. That's a big jump. Pretty soon there will be a woman [The Daily Show's Samantha Bee, who has a new talk show on TBS] that'll be added to that. And there will probably be more women, which is gonna be fantastic."
"We always have to address the shortcomings of any era that we are living in," Noah said. "I think we also sometimes need to take a beat to realize the progress that is being made." Until then, we'll leave you with this:
* An earlier version of this post incorrectly referred to the photo spread as a cover story.