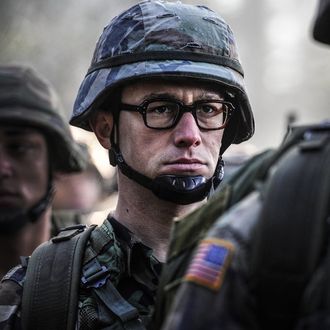 Snowden? I hardly know 'em!
Photo: Open Road Films
It's the time of year when studios are putting their release dates where their mouths are, and today brings news from THR that Oliver Stone's Snowden has joined Jean-Marc Valée's Demolition in being pushed back to 2016. Snowden, which stars Joseph Gordon-Levitt as the titular whistle-blower, was set to be released on Christmas Day, but THR's sources say the film is still unfinished. Like every non-superhero film released late in the year, Snowden was being talked about as an Oscar contender; its delay is bad news for Stone, but perhaps good news for Gordon-Levitt, who will no longer be competing against himself for the chance to lose to Eddie Redmayne.