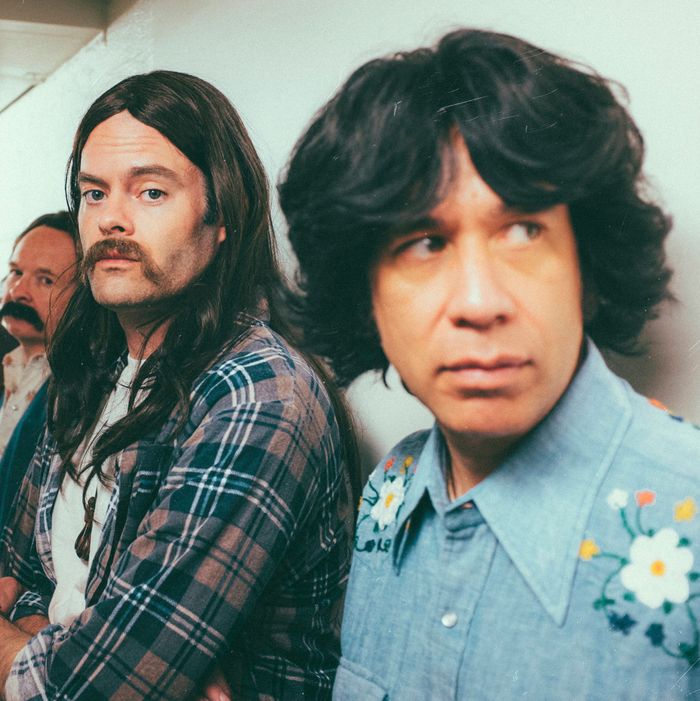 Something happened midway through the first season of Documentary Now!, which wrapped up last night on IFC. The show started off — and was praised for — taking pitch-perfect documentary parodies and pushing them in absurd directions: twisting Grey Gardens into a horror movie, for example, or turning Nanook Revisited, a documentary about the documentary Nanook of the North, into a bizarre tale of an Inuit who pioneered most modern-film techniques. But over the course of six "documentaries" (which included the two-part finale), it also grew increasingly humane. While the precision was still there, the goal felt like it was no longer about creating accurate parody but instead about creating truthful character studies. It built and built to the last three minutes of last night's finale, which immediately felt like one of the most honest, human bits of comedy I've seen in years, if not ever.
There were first inklings of this shift in episode four, "The Eye Doesn't Lie." A take on Errol Morris's The Thin Blue Line, it centered on Fred Armisen's performance as the innocent person, who is also an annoying mope. It's amazing how truly unlikable this character is, and Armisen's performance became the focal point. Episode five, "A Town, a Gangster, a Festival," wasn't a parody of anything specific, and it ended up being played so sweetly that it's hard to even call it comedy. It tells the story of a small, quirky town in Iceland that holds an annual Al Capone festival. It sounds like an absurd premise, but Seth Meyers and Armisen's script takes every opportunity to ground it. Armisen plays an Iranian immigrant who uses the Al Capone look-alike contest to ingratiate himself into the community. You see him practicing hopefully in the mirror before later tagging a question to his kids with an old-timey-accented "Alcatraz." It feels less like a big Saturday Night Live sketch and more like an understated short story that might elicit smiles and few chuckles.
Then there was the season's best documentary, episode six, the two-part finale "Gentle and Soft: The Story of the Blue Jean Committee." "Any time you mess around with parodying bands and music docs, you just want to steer clear of Spinal Tap," Meyers told Rolling Stone. In that avoidance, Meyers, Hader, and Armisen found something entirely new. Instead of mocking rock stardom and the music industry, "Gentle and Soft," again, focused on character.
The inspiration for the episode was 2013's History of the Eagles, and it's built around Armisen and Bill Hader as two tough, working-class Chicago guys, both descended from sausage families, who become the biggest soft-rock stars of 1974. "What sort of delighted us about that film was that you have this really soft sound — and then you have these aggressive alpha males," Meyers told Rolling Stone. "So we started throwing this idea around about these two guys who are a little aggro and are making this kind of breezy, margarita-sipping music." The two soft-rockers eventually break up at the height of their powers, with Hader going on to license the band's intellectual property and live a life of luxury, and Armisen returning to the sausage plant where his parents both worked.
That brings us to the conclusion of the episode, which you can watch below. Armisen and Hader's characters just accepted their Rock and Roll Hall of Fame award, and Armisen stops by Hader's green room. The two share awkward small-talk, speaking over each other in clipped phrases and failing to make eye contact, and Hader gives Armisen some Blue Jean Committee–themed wine coolers. Armisen doesn't know what to say, finally mumbling, "I'm happy for you … yeah … you got it all worked out." They part. We then see Armisen turn around and consider going back. The camera pulls in, then cuts to Hader as he looks around, breathess, and rubs his face. The episode ends with alternating shots of Hader and Armisen: Hader walks around his empty mansion, staring out at his view, which, as he had said earlier, was one telephone pole away from being perfectly unobstructed; Armisen sloppily plays the Blue Jean Committee's biggest hit in a local Chicago bar, sparsely attended by his friends. It's more than a "money can't buy happiness" parable. It's the story of a humble guy who just likes playing music and a blindly ambitious guy who has no idea what he likes. It's about a man content with his place in the universe (a sausage plant in Chicago) and one trapped in an empty lie about the California breeze.
It's a tonal masterwork. The closest comparison that comes to mind is the American Office, in how it felt so big yet so real, but even that doesn't fully convey the unique poignancy of those last few minutes. It's a testament to the writing and directing, which all season walked along the edge of the uncanny valley, but more than anything, it's the acting. Yesterday, Meyers tweeted that this ending was his "favorite moment of the season," later adding, "Fred and Bill are very good actors," which is an understatement. As proven by this scene, and scenes like it throughout the season, Armisen and Hader are tremendous actors. The show is probably too small to garner either Emmy nominations, but that doesn't mean it doesn't mark something significant in their careers. For Armisen, it felt like the apotheosis of a career spent creating more and more specific characters; for Hader, whose background isn't acting, it felt like the culmination of attempts to prove to audiences and himself than he is a capital-A Actor. Naturally, Seth was there, as he was throughout both actors' times on SNL, quietly making sure they were in the exact right place to succeed.
When reviewing the first few episodes, Vulture's Margaret Lyons rightfully questioned if an oddball could be the star of a show. She pointed out it's hard to focus on big, sketchlike characters for 30 minutes without exhausting the audience. Unknowingly (as the show had already wrapped), Documentary Now! addressed this criticism, making the characters smaller. Over the engrossing hour I spent with the Blue Jean Committee, I slowly learned more about these people and and all the unspoken things about their relationship, and wondered what it said about the human condition. It may not be a real documentary, but it is a great one.