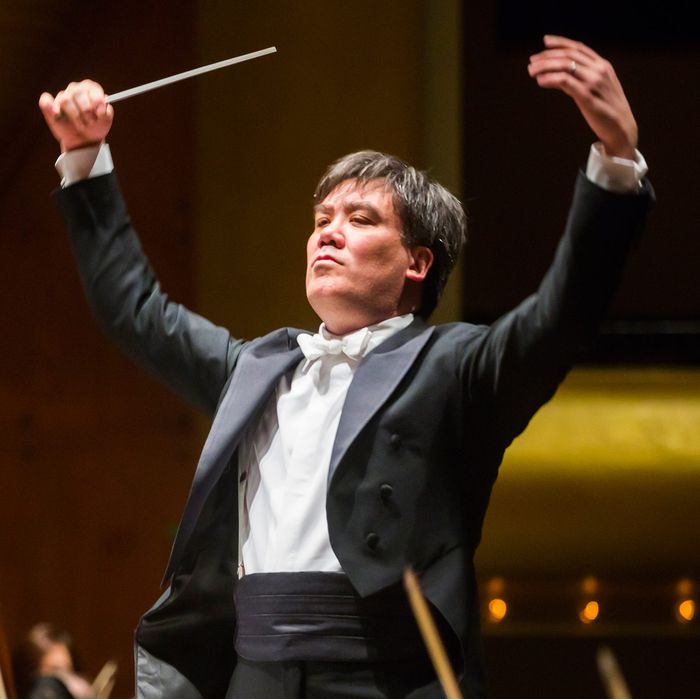 Alan Gilbert conducts the New York Philharmonic.
Photo: Chris Lee
With a flourish of optimism, the New York Philharmonic has opened its new home, David Geffen Hall, which looks exactly like its old home, Avery Fisher Hall, except for the signs. The rechristening ceremony and the opening-night gala attracted a passel of Hollywood stars, as well as a $25 million donation from board chairman Oscar Schaefer to supplement Geffen's $100 million. On the next Oprah-less night, the Philharmonic's present seemed bright: Alan Gilbert conducted rip-roaring performances of Esa-Pekka Salonen's L.A. Variations and Strauss's Ein Heldenleben. Frank Huang, the orchestra's first new concertmaster in 35 years, played Strauss's rhapsodic solos with lyrical freedom and refined good taste that bode well for the Philharmonic's strings.
But with those everyday heroics, the orchestra plunged confidently into a foggy future. Somewhere in the chasm ahead lies a massive fund-raising campaign (just $375 million to go to pay for the actual renovation!), a redesigned hall, a new music director, financial stability, and an artistic vision, all of which will need to materialize at roughly the same time.
Gilbert steps down in 2017; the hall is supposed to be gutted and rebuilt starting in 2019. In the geological time scale of the classical music business, that leaves his successor about five minutes in which to influence the design by an as-yet-unnamed architect, figure out how to keep the Philharmonic artistically and fiscally vigorous during its period of homelessness, and then lead it back to the glittering new Geffen. Orchestras are delicate creatures, and getting this complicated maneuver wrong could prove catastrophic.
One partial solution — maybe the only good solution — appeared briefly onstage at the first subscription concert: Salonen was starting a three-year term as composer-in-residence, which could serve as a prologue to a stint as music director. A composer-conductor of immense talents, he would step onto the podium a well-honed musical personality. He would continue Gilbert's efforts to adapt a 19th-century institution to the contemporary world, and deliver stirring performances of the big core works.
But his most important experience, a qualification that the Philharmonic should consider indispensable, is that he was present at the creation of Frank Gehry's Walt Disney Hall. Great designers depend on great clients, and if the Los Angeles Philharmonic now inhabits one of the country's architectural masterpieces, it's thanks in part to the orchestra's bold soul. Salonen's major role in that adventure means that he understands how the backstage nitty-gritty of freight elevators and practice rooms interacts with the experiential immersion of a resonant room, and the continuity of the audience experience from subway to seat and back again. Not many other musicians have that kind of authority. Without it, the Philharmonic risks buying itself a half-billion dollars' worth of compromises and misjudgments.
Gilbert and Salonen opened the concert not with a bang but with a speech, a tag-team lecture on a sparkling 20-year-old work that requires no explanation. Salonen, a Finn who was trained in the rigors of European modernism, recalled that shortly after he began his tenure as music director of the L.A. Philharmonic, he woke up early one morning and, intoxicated by chirping birds and gaudy bougainvillea, experienced an unfamiliar and un-Finnish feeling: "I was happy." So he sat down to write. Instead of making his exit there, he then plunged into a discussion of hexachords, aggregates, and implied modulations that must have mystified 90 percent of the audience and hardly entertained the rest. Gilbert is unusually deft at spoken introductions; Salonen should probably be a man of fewer words.
Once the concert finally got going, it was clear that Gilbert has kept the orchestra in splendid musical shape. Perhaps he was implying a comparison between Strauss and Salonen and suggesting that since the first isn't available, the Philharmonic should hire the second. Both wrote their respective pieces in their 30s, when they gloried in their success as conductors and discovered new freedom as composers. Eager to show off their exuberance and skill, both used upward-floating themes, techniques of continuous variation, and dazzling pinwheels of instrumental colors. Orchestras tend to attract attention only in times of strike, penury, and inner turmoil, but on this night the 100-plus players onstage had nothing to offer but pyrotechnic pleasures and swashbuckling sounds. The Philharmonic will have to be careful not to squander that trust fund of joy.