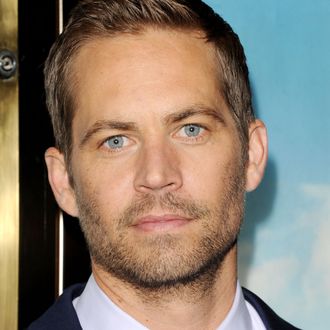 Paul Walker.
Photo: Stuart C. Wilson/2013 Getty Images
Almost two years after Paul Walker's untimely wreck, his daughter has filed a wrongful-death suit against Porsche, alleging safety shortcuts ultimately led to the Fast & Furious actor's fiery, fatal crash. Meadow, 16, submitted the complaint Monday in L.A. Superior Court with her guardian Brandon Birtell; they want to recoup unspecified damages and hold the car manufacturer responsible. "This wrongful death action arises from the demise of Paul Walker, who was a passenger in a Porsche Carrera GT," the filing reads. "Porsche designed and marketed the Carrera GT as 'a racing car licensed for use on the road,' powered by a 605 horse-power engine capable of achieving a top speed of 205 mph."
An initial investigation into Walker's crash, which also claimed the life of his financial adviser and pro racer Roger Rodas, determined that speed played a major factor in causing the wreck. Meadow and her team, however, seek to prove that the vehicle was not in fact safe for use on the road in the first place. Their court documents claim Porsche:
did not install an electronic stability-control system to protect against swerving
used weak side-door reinforcement bars
anchored seat belts in life-threatening ways
used fuel lines that could not stop fuel flow (i.e., prevent fire after impact)
failed to recall the vehicle after at least one prior fatal crash
acted negligently in the face of the car's defects
"Absent these defects in the Porsche Carrera GT, Paul Walker would be alive today," reads the complaint, which also claims Walker was burned to death. Deadline notes that this suit comes more than one year after that of Rodas's widow, who similarly attempted to hold the car and car manufacturer responsible. In that instance, Porsche reportedly commented: "Rodas' death, and all other injuries or damages claimed, were the result of Roger Rodas' own comparative fault." In a statement released to the media, Meadow's attorney said Walker's only daughter and sole heir filed the suit with "great reluctance" and that she is a "teenage girl who is still dealing with the tragic loss of her father."
Two weeks ago, Meadow honored her father on his birthday by posting a picture of them on Instagram and announcing the launch of the Paul Walker Foundation:
Although the damages were unspecified, the L.A. Times puts Walker's estimated estate at $25 million. The filing requests a trial by jury for defendants Porsche AG, Porsche Cars North America, and Beverly Hills Porsche.