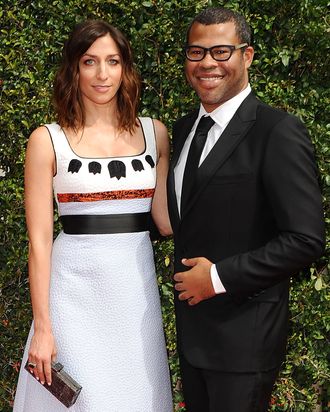 Don't be jealous of their love.
Photo: Jason LaVeris/FilmMagic
No, you're not the only who's going to miss Key & Peele. In honor of the end of the brilliant sketch-comedy show, Vulture asked 39 of the duo's comedic peers for their favorite memories, including Jordan Peele's girlfriend, Brooklyn Nine-Nine's Chelsea Peretti. So when we saw Peele and Peretti at the Creative Arts Emmys, we had to get their thoughts on the outpouring of adoration for the show. "It made me just bawl," Peele said. "I felt like I was watching my own funeral from above."
What was an even bigger surprise to Peele was how Peretti kept her own involvement a secret. "She didn't tell me she did it either," said Peele. "So I was like, My baby is in there too?"
"I wanted it to be a surprise!" said Peretti. "He was reflecting on life and I was like, It's huge! It's a huge thing!"
So what do Peele and Peretti do on their own time, when they aren't writing carefully crafted jokes? "We stay at home, cook, do the dishes, and improvise musicals." Peele joked. "One of our best ones was Monica Lewinsky: The Musical. It was for older Midwestern people traveling to New York to see something."
"It was just making fun of the convention of musicals that think they are being very dirty and brash, but it's still kind of soft humor if you're a comedian," Peretti added, laughing. "It was untoward jokes about her dress and cigars and things of that nature." May we suggest a new show: Peele & Peretti?