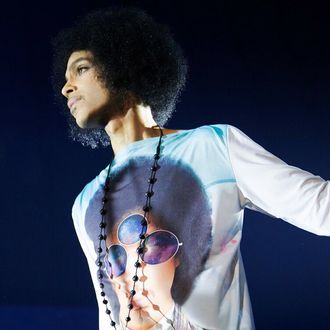 Prince.
Photo: Ralston Smith/NPG Records
This was inevitable. Let the frustration come; let the tears come:
Prince has released his 35th studio record, HITNRUN Phase One(which includes the singles "HARDROCKLOVER" and "This Could B Us"), exclusively via Tidal.
The album came at the end of a peculiar, long-weekend dance party at Paisley Park, which led to, among many other highlights, Prince riding a bicycle through a parking lot (hopefully scream-singing Queen's "Bicycle Race," or else nothing makes sense anymore). "Jay [Z] allowed us to pick the art work, the design of the page, the related-content features," Prince told EW last month, when asked about the Tidal-vs.-traditional-record-label preference. "Why shouldn't you be allowed to do that when it's your music, your creation?"
Beginning this week, Prince and Tidal also kicked off the Purple Pick of the Week, a streaming bonus that features "new tracks, exclusives, rarities and more from the vault, curated personally by Prince," according to the music service. You can listen to the full album below (after logging in, of course), or check it out here.

Enjoy*:
*If you feel like testing out Tidal, you can create an account and listen to all the hi-fi music gratis for one month. (If you are a die-hard Prince fan, this is where his music lives now — purple food for thought.) Also, keep in mind that if you're a student, you might qualify for a Tidal discount.