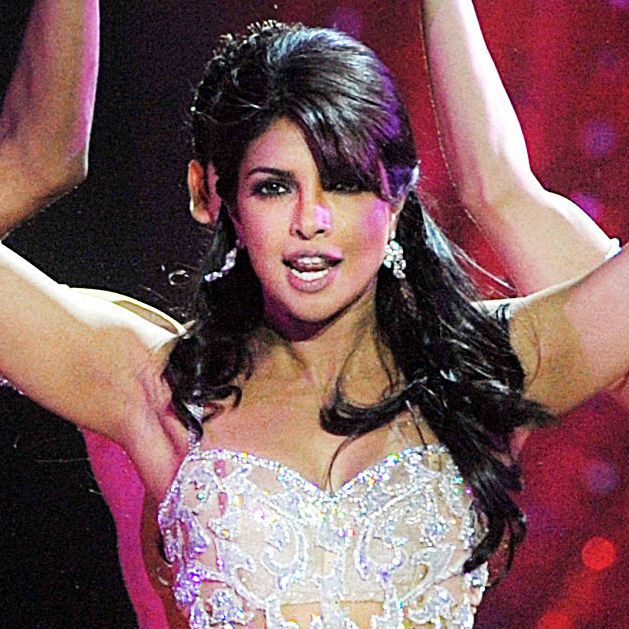 Priyanka Chopra (center) performs during the 2014 Indian Super League tournament in Kolkata, India.
Photo: Jag Gundu/Getty Images
Many are heralding Priyanka Chopra, the face plastered all over ABC's Quantico posters, as a lovely new ingenue. But the 33-year-old actress is a longtime staple in Bollywood, well known on Indian — and global — screens for over a decade. With our hopes held firmly high for the promising new ABC show, here are seven things you should know about the star at the center of it.
She's a seasoned actress. One of the highest-paid actors in Indian cinema, Priyanka Chopra has nearly 50 films to her name. She's also got a rabid following — 11 million and counting on Twitter — that includes a large contingent of fans in the United States.
She's got chops, and she cries like a pro. Chopra earned a National Film Award — India's equivalent of the Oscar – for her role in 2008's Fashion. You can get a sense of her emotional range in this scene from Fashion — you'll see similar top-notch cry-acting from Chopra in the Quantico premiere:
The former Miss World can run in heels. A talent that will serve her well on Quantico. Her training: winning the 2000 title of Miss World, a contest she entered at the behest of her mother, who encouraged her to enter the Miss India competition when she was just a teenager. Watch a 20-year-old Chopra get crowned as the most beautiful woman in the world:
At the time, she wanted to be a software engineer or criminal psychologist.
She doesn't mind the word exotic. In 2013 she released a single, "Exotic," touting herself as "hotter than the tropics." The song (featuring Pitbull) hit No. 12 on the dance charts. The music career is a relatively new turn, but Chopra's been singing everything from gospel to R&B since her pageant days, when her talent was belting songs onstage.
But she does have issues with the word Bollywood. Chopra finds it reductive of the scope of Indian cinema. "Our movies are extremely global. They're celebrations of human beings and languages and cultures and experiences," she told Vulture. "There's an audience for them worldwide, and it's only growing."
She goes after physically demanding roles. Playing Olympic boxer Mary Kom in the 2014 biopic Mary Kom, she spent four months with the champ in the ring. Training included doing push-ups on logs and lifting tires over her head:
Chopra is all about cop roles right now. "For Quantico, we spent a lot of time with FBI consultants who came onboard to show us the ropes," she tells us. "It was really amazing. I'm playing an Indian female cop in a film I'm doing — Jai GangaaJal, releasing in March — and they're both female badass cops. It's the year of the cop for me." Quantico, meanwhile, will debut in India at the same time it does Stateside, which is unusual, but it means that ABC and Co. are banking on Chopra to break out big.