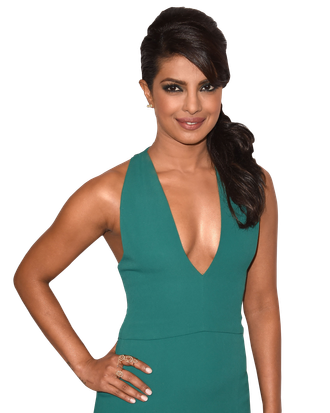 Photo: Steve Granitz/WireImage
ABC's new thriller Quantico follows an ensemble of FBI rookies through their first year up to a critical moment, when one of their own is accused of masterminding the biggest act of terrorism to hit American soil since 9/11. The network is betting on the scene-stealing Priyanka Chopra, a longtime staple on Indian — and global — screens, who's making her American debut as Alex Parrish, a new agent hiding a major secret. We caught up with the former Miss World to chat about Bollywood, diversity on television, and what's ahead on season one of Quantico.
First things first, all the women on Quantico — including your character, Alex Parrish — are kickass.
Yes, the women have kickass characters — and the reason that's standing out is because you rarely see a show with all kickass characters for females. It's not something we're used to, and so it almost feels lopsided, but really what it's doing is making things equal. The men are awesome, too, but the women stand out because of the disparity that's existed for so long in TV and everywhere else. That's what's new about Quantico. It's extremely balanced.
In the first five minutes of the show, Yasmine Al Massri's character, Nimah, calls a man out on his racism. That's something we still rarely see onscreen.
Nimah is going to blow your socks off! You've never seen a gun-wielding, badass, hijab-wearing law-enforcement woman. If there were any other character I would have picked to play this season, it would be Nimah. She's amazing. And Yasmine is a revelation. This show is so empowered. I mean, I'm playing an Indian girl who wears an Om bracelet and is completely in touch with her Indian roots but at the same time is a modern-day global citizen who's smart, opinionated, bold. Then there's Johanna Braddy's character, who's like the total Georgia peach pageant queen, but she's an amazing sniper shot. Simon is this geeky, Über-intelligent gay guy — and he's hiding the hugest secret of us all. He has a gray to him that is dark gray. The bar is set high on this show.
It definitely plays with preconceptions in a fun way. You don't know whom you can trust.
That's the world, isn't it? Honestly, I think that's the best part of the show. Every character breaks the stereotype of what they should be — not just me. Alex Parrish is absolutely flawed, and she takes the flaws and turns them into her superpowers. All the characters end up doing that. Things turn around so fast. It's really fun playing Alex because the audience has to see the world through her eyes. But you're not quite sure if you can trust her.
This is your American TV debut, and you've said that you really wanted to avoid playing into a stereotype. But it's a show about terrorism. Did you worry?
Yes. People already have certain preconceptions, and I didn't want to reconfirm those. Especially as a Hindi movie actress.
Although some of your choices in Indian cinema are also quite out of the box.
I always try to play empowered characters, whether they're big roles or small roles. I want to play characters that have something to say, that have a voice. That's who I am, and that's what I wanted to do creatively as well.
You had a talent deal with ABC, and you looked at a lot of projects. What made you decide that Quantico was the one?
Whenever I pick a script, I make sure I'm choosing something I would want to watch. And Quantico was something I'd definitely want to watch. As soon as I read the pilot — and I read 26 this season — I knew this was it.
How is TV different from filmmaking, in your experience?
Oh, the pace. It's all-consuming. In features, we're languid, we shoot one or two scenes over, like, three days. In TV, the pace is so different. You're shooting ten scenes a day, going way into the future or way back into the past. It's complete madness, and I'm just trying to keep up with this really electric pace.
At the end of the season, I've been told we should know who the terrorist is. But that's all I've been told. I know a bit more than you because I've read to episode six, and I can't wait to see what's next. I don't think anyone really knows where it's going. It drives me crazy. I'm a control freak, I micromanage everything. And I have no idea what's next. It's completely out of my comfort zone.
Much has been said about the current "diversity trend" in Hollywood — what are your thoughts on that?
My work has never been for anyone else — my choices are never because this is expected of me, or my Twitter followers expect something, or my country expects something. I'm an artist, and I have to do what feels right to me. That's been my take from the very beginning. I decided a long time ago that if I was going to do anything internationally, it would be mainstream, pop entertainment — and that's exactly what Quantico is. The diversity is just reflective of the world today — look around you, this is what America looks like. This is what the world looks like. It's time Hollywood embraced that. The girl next door looks absolutely different — you have no idea what she's going to be like. So I don't want to hear, "This is a testament to diversity," because it's actually just what the normal world around you looks like today.
There have been actors of South Asian descent in the spotlight before — from Kal Penn to Mindy Kaling — but you're the first Bollywood star to break through. As you mentioned, people have preconceptions about Indian cinema.
I think the Indian film industry is underestimated. There's a huge international audience for Indian movies everywhere. They're extravagant and big and celebrations. Hindi movies go beyond the barrier of borders, of language, of culture.
I don't look at Hollywood as a big break. Indian film stands on its own. The reason I decided to work here is because the work came to me. I've always gone where my work takes me. This was an incredible character, an incredible show, an incredible opportunity. For me, it's not about boundaries or crossing over. It's about what the work is. I'm doing Hindi movies, I'm doing a show in America. I might just go and do a Russian movie tomorrow.