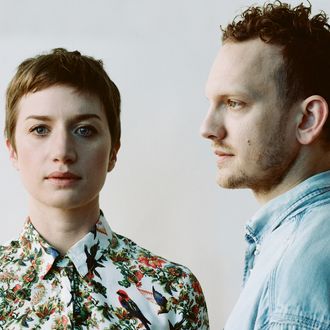 Pure Bathing Culture.
Photo: Parker Fitzgerald
On their new single "Palest Pearl," promising Portland duo Pure Bathing Culture match a harrowing concept — how far would you be willing to go, and what would you be willing to lose, in order to achieve your wildest dreams? — with a fizzy, '80s synth-pop tune. The effect is twofold: On one hand, you may want to Carlton-dance your way through the infectious melody, led by Daniel Hindman's jangle-pop guitar line; on the other, close listens could send you into a contemplative spiral, thanks to the existential questions posed by singer Sarah Versprille. However it plays out for you, Vulture is pleased to exclusively premiere the song.
"Palest Pearl," off Pure Bathing Culture's thoroughly lovely sophomore LP (Pray for Rain, out October 23 via Partisan Records), was inspired by the early 20th-century poet H.D.'s work "The Walls Do Not Fall," from her collection Trilogy. "Our song isn't so much a reimagining or reinterpretation of H.D.'s poem, but it's more picking up where she leaves off," the band says. "For us, there's duality in this theme in the sense that there are good and bad stories of how far people are willing to go in order to achieve their own 'pearl of greatest price.'"