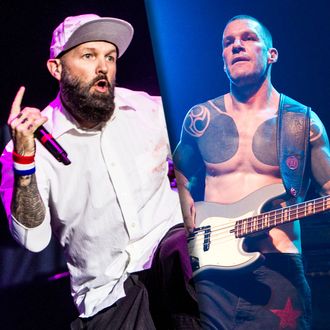 We'll be hearing about this for another 20 years.
Photo: Splash News/Corbis
There's no letting go of grudges in rock 'n' roll, and it appears Rage Against the Machine's bassist has still not settled his beef with Limp Bizkit. Tim Commerford, presumably speaking on behalf of his band, is now taking full responsibility for the existence of the Fred Durst–led rap-metal outfit. He tells Rolling Stone: "I do apologize for Limp Bizkit. I really do. I feel really bad that we inspired such bullshit. They're gone, though. That's the beautiful thing. There's only one left, and that's Rage, and as far as I'm concerned, we're the only one that matters." This of course isn't the first time Commerford has expressed his animosity toward Durst and co. He famously pulled a Kanye-before-Kanye and disrupted Limp Bizkit's speech at the 2000 VMAs, climbing atop a massive part of the stage design while the band accepted the award for Best Rock Video, beating RATM's "Sleep Now in the Fire." He was later arrested.
But unbeknownst to Commerford — who apparently never got the memo that Limp Bizkit still tours — according to RS, Fred Durst has continued to sing RATM's praises. His band has reportedly performed "Killing in the Name" more than 100 times, and Durst even dedicated a cover of the song last year "to the rap-rock band that started this shit." Anyone willing to lend Fred some stuff to break?