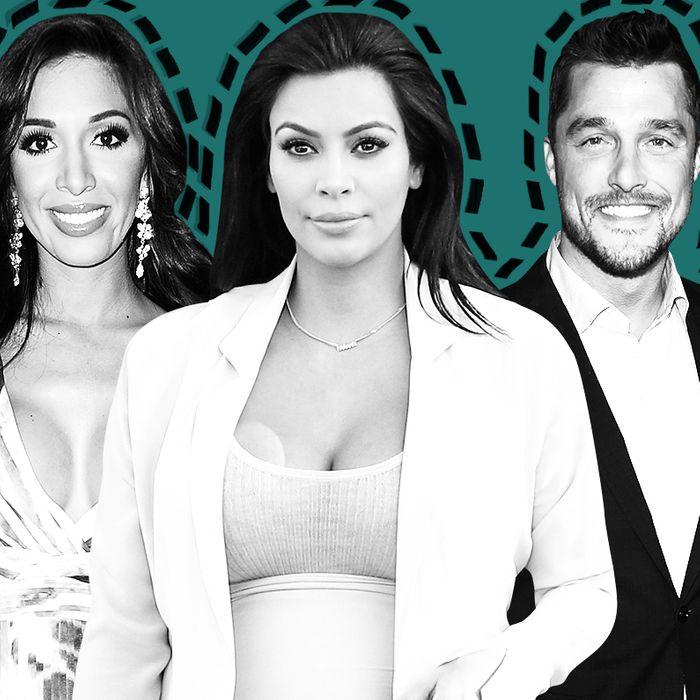 L-R: Farrah Abraham, Kim Kardashian, Chris Soules.
Photo: Vulture Illustration and Photos by Getty Images
All week long, Vulture explores what happens to reality TV contestants after the show ends — and the future of the genre itself.

For reality alumnae looking to sustain their 15 minutes, they face the prospect of diminishing returns. Only so many of those who vie for love, money, or thorny recognition on assorted unscripted shows resonate with viewers. And among that select group, a minority will find opportunities to spin off their success. That's where companies like CEG Talent come in. The New York–based "boutique pop-culture agency" represents performers and personalities from all areas of entertainment, including reality vets such as The Bachelor's Chris Soules, Juan Pablo, and Michelle Money; Teen Mom's Farrah Abraham and Jenelle Evans; Keeping Up With the Kardashians' Scott Disick and Jonathan Cheban; and Mob Wives standout Big Ang.
With CEG client and Real Housewives of New York star Countess LuAnn de Lesseps waiting patiently on hold (no, really), CEO Michael Schweiger took a few minutes to deconstruct the five key avenues these sort-of celebs can travel down, toward the end goal of making a living the old-fashioned way: off their notoriety. 
Avenue No. 1: Personal Appearances
"The personal-appearance business has always been strong for them," says Schweiger. "It's really doing nightclubs, malls, casinos, Dodge dealerships, whatever the case might be. The majority of these meet-and-greets are in nightclub environments. The celebrity turns up at the peak of the night, they'll spend two hours at the venue, sign autographs, have their photographs taken. It's really just another wallpaper way for the venues to put people in the clubs, add a little excitement into the room." Also, knowing your audience is paramount. For example, when it comes to the cast of CMT's Party Down South, Schweiger breaks down that, "You've got NASCAR, you've [got] hot barbecue, you've got horse racing, you've got dog racing. That's your demographic, so we have to look for placement in those markets. Ryan from Party Down South will get onstage and drink a bottle of Jack Daniel's in three seconds, and that's terrific. They'll all take photos, they'll social-media it out, the club sells Jack Daniel's, everybody gets drunk and crazy. Whereas with Mob Wives, I can't book those ladies in younger venues because those people don't watch their show. It's like watching their grandmother."
Typical Fee: "Kim Kardashian is the pinnacle of it," Schweiger says. In international markets, she can get in excess of $75–100,000 for personal appearances." However, he amends, "On the majority of the shows these days, it depends on the ratings and the market you're looking to put them into. Your basic Bravo– or E! Network–style shows that are getting a 1–1.5 rating, they can be anywhere in the $1,500–3,500 range."
Avenue No. 2: Social Media Shill
"The second revenue-generator right now for these people is in the social media fields," Schweiger explains, adding that it depends on whether "they have good Instagram followings, good Twitter followings." Facebook, he clarifies, "is becoming irrelevant," while "Instagram is No. 1." The way it works, according to Schweiger, is: "We'll get these companies trying to create brand awareness or push a product," and then Reality Star X simply sends out an editorialized tweet or posts an Instagram pic (not necessarily an endorsement) about the item. Lest you think the process is undiscerning, Schweiger elaborates. "Say, for example, someone on Love & Hip Hop: Atlanta [is on Instagram], and there may be a product out there which is an energy drink." Companies consider that people following that star may not be energy-drink consumers. "They may be more inclined to buy baseball caps."
Typical Fee: "Someone with an Instagram following of between 200–500,000 people," says Schweiger, "for them to post about a product, you could be getting anywhere between $3–7,000 for one little Instagram post."
Avenue No. 3: Keep Making the Reality Rounds
"The networks are doing reality shows where they're using celebrities from past reality shows to bump up their image," says Schweiger. "Shows like Celebrity Marriage Boot Camp [take] celebrities from Love & Hip Hop and other shows that are beyond their use-by date, and they'll put them in these. Networks feel that by bringing in the B-level, C-level, D-level celebrities, it's going to increase their ratings. Networks will approach us when they're casting a new show, they'll give us a synopsis of what they're looking for, and we present them with the people who'd be available. The problem is, it's a very small talent pool, because in every reality show, one or two people will break through to have a value." Or if Celebrity Big Brother seems beneath you, try staying in reality's orbit on your own terms. "If you can get a spinoff coming off a reasonably successful show, we can be in a position to make a pitch to the producers while the show is going," Schweiger confirms. If you're truly compelling, "The producers may come back to us and suggest a spinoff for that person, and it's really based on the data and analytics they're getting back on that character."
Typical Fee: "For a past celebrity on one of the new celebrity-based shows, they can make anywhere between $40–50,000 for the season, to as much as $150,000. We've been offered stupid amounts of money for celebrities to do some of these cheesy reality shows, and certain celebrities just won't do it." Although when it comes to, say, Farrah Abraham, whom Schweiger concedes will do "anything," her value is derived from the fact that "she is a train wreck. There's a story to tell there. She's made herself interesting."
Avenue No. 4: Scripted Film and Television
"It depends upon how they were accepted," says Schweiger. "We represent Chris Soules from The Bachelor. Women in America love this guy. They all want to be the bride. Other people have watched Dancing With the Stars, so there is an ability to break him. We had an offer to do a Broadway show, which was rejected by the network for whatever reason. We thought it was a perfect transition. If they can read a line and carry a script, we'll submit them for those roles. But guest appearances on film and TV playing themselves is becoming more and more important right now. Most of these part-time pop-culture celebrities all feel that because they're on television, they're superstars, but they may not have the chops to take that career any further."
Typical Fee: Things get tricky once you're in union-ville. Per Schweiger, "Film and television guest-star roles are minimal because you're talking equity rates. You're actually making less for a week's work than a two-hour personal appearance in some cases. They all think, 'Oh, I'm gonna get paid hundreds of thousands.' It doesn't work that way. You'll get a small appearance fee. They can't really parlay that, unless they want to go back to school and learn how to act."
Avenue No. 5: Don't Be a Celebrity
"The smarter ones are like Chris Soules," says Schweiger. [He] knows what he's got, has a career, is a smart person, is thinking, I'm not going to be this celebrity for the rest of my life, but what can I do to combine my celebrity and my farming and the things I enjoy into a career? I've seen a lot of these people come and go, and a very tiny percentage of them actually go into a career in the entertainment industry. Those who are smart and dedicated to what they're doing, and dedicated to reinventing themselves, will make it happen."
Typical Fee: Priceless.