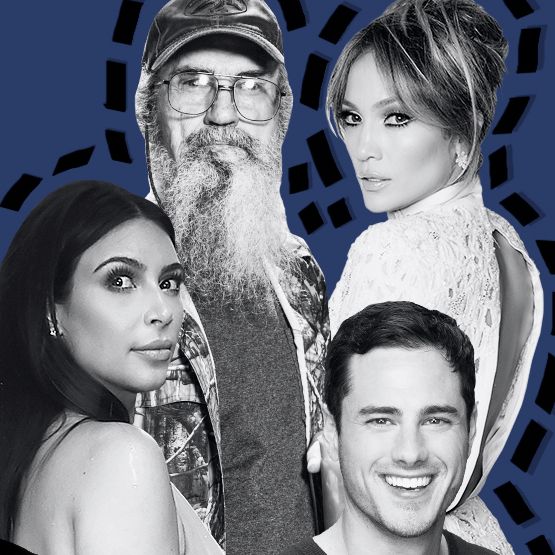 Photo-Illustration: Vulture and Photos by FOX, E!, A and E, NBC and ABC
All week long, Vulture explores what happens to reality TV contestants after the show ends, and the future of the reality-TV genre itself.
Take a quick glance, and the reality-TV business seems to be doing just fine. On Monday, NBC's The Voice and ABC's Dancing With the Stars both drew over 11 million viewers on the first night of the new season, far more than most of the heavily hyped, scripted newcomers bowing this week. Cable networks, meanwhile, remain far more reliant on reality than scripted fare, hosting literally hundreds of series that fill thousands of hours of airtime. But look a little deeper and there are signs of trouble.
TV's last massive reality hit, A&E's Duck Dynasty, premiered more than three years ago. A slew of recent big bets to shake up the genre — such as Fox's Utopia, CBS's The Briefcase, and ABC's The Quest — went nowhere. And with networks increasingly taking a long-tail approach to their business, prioritizing scripted series that have a (profitable) digital afterlife on streaming services, it's hardly a given that reality TV, which former Netflix content chief Ted Sarandos dismissed earlier this year as "disposable," will continue to thrive. Fifteen years after a mind-blowing 52 million viewers witnessed the first-season finale of Survivor, the boom days are finally over for reality TV.
Talk to unscripted producers and executives about the state of the genre in 2015, and one word pops up repeatedly: fatigue. While modern reality TV is barely a teenager, and far younger than programming staples such as comedy and drama, the sheer tonnage of unscripted content produced in the past decade-and-a-half has left the people who make it — and, arguably, those who watch— struggling to recapture the excitement of a once-vibrant genre. "Reality seems tired. It seems derivative," says one former network chief who now works in the digital world. "There hasn't been a really loud, innovative reality show in a while." 
Indeed, not even the biggest booster of the reality business will argue there's been much innovation of late. "I absolutely think there has been too much of a reliance on gimmicks and twists," a top broadcast reality exec says. "Things that were once 'shocking' now feel like William Castle devices." Cable's strip-mining of the genre is seen as an even bigger problem. If there's even the slightest hint that audiences are responding to an original thought for a show — say, a series about truckers in Alaska — a half-dozen networks will be at work on a ripoff faster than you can say Big Rig Bounty Hunters. A top producer worries that some of his colleagues "see unscripted TV as a factory proposition," with shows developed and produced like widgets. "But nobody wants to watch programs that feel like they are being turned out by rote," he says. 
Some believe that this downturn is just a symptom of reality's advancing age, a natural transition from the early days — when every new show was an opportunity to launch a new pop-culture phenomenon — to a more settled period in which Reality has joined Comedy and Drama as one of the tentpoles of TV programming. "We've finally reached maturity," our network suit argues. "We are in a down cycle. If anything, it's surprising it took this long."
The thing is that reality execs have been offering the exact same excuses for the genre's paucity of fresh hits for several years now. In March 2012, Mike Darnell, the veteran broadcast executive behind American Idol, When Animals Attack!, and a zillion other reality-TV shows, explained away the lack of new unscripted hits with nearly identical language. "The genre has gotten mature," he told Vulture then. At the time, Darnell was well into his 18th year heading up the Fox network's reality division, and Idol was still a staple of Nielsen's top 10. With The Voice just a couple years old, it didn't seem such a stretch to think of reality's woes as a blip, a temporary dry spell.
But Darnell's bosses were a bit more worried about where reality was headed. Barely two months later, Fox announced Darnell's departure from the network, stunning an industry that viewed him as one of the godfathers of the genre. A well-respected showman, Darnell quickly landed a big deal to oversee production of unscripted shows for Warner Bros. TV; few industry insiders, however, believe he wasn't at least nudged out of a job he loved. His exit marked the beginning of a reality-exec exodus at the networks. Over the next year or so, the longtime reality-division chiefs at ABC, CBS, and the CW were all replaced. Just as with more "mature" formats, senior brass at the networks figured a change in the people making the shows might prompt a new wave of hits. It didn't. Despite all the restructuring, no new genre-changing reality smash — the unscripted equivalent of Empire or even How to Get Away With Murder — has emerged on any network, broadcast or cable, in more than three years now. The "down cycle" insiders talk about is starting to feel more like a Great Recession for reality. Something fundamental about the business seems to have changed.
One possibility is that post-boom reality is taking a hit because of a much-discussed TV-industry trend: the explosion in scripted programming. The number of first-run comedies and dramas has grown by a butt-numbing 687 percent since Survivor premiered in 2000, with original cable shows alone doubling in just the past five years. Viewers can only watch so much, and it's logical that bandwidth audiences once reserved for some trashy new reality show might now be devoted to one of the never-ending new comedies or dramas being touted by critics. But the era of Too Much Good TV doesn't just siphon away viewers from unscripted shows — it crucially drains away limited network resources.
Broadcast networks are launching more new comedies and dramas than ever before as they struggle both to find new hits and to keep up with the flood of new content from the Netflixes and Hulus of the world. That's led to less money for new reality shows, resulting in fewer of the big swings that might lead to the next Amazing Race. "They're just not taking chances," one producer says. "If you get [network reality executives] to be really frank, they'll admit they have a hard time getting [their bosses] to even shoot pilots for new things." (Of course, sometimes small shots based on old ideas can pay off: ABC had a legitimate summer success with a modestly budgeted, celebrity version of Family Feud. Strictly speaking, it's not a reality show, but it fits into the unscripted category and offered broadcasters hope of a revival.)
Meanwhile, on the cable side, as even TV's smallest networks jump into the scripted fray — yes, the Esquire network is about to launch a scripted drama — some see unscripted series taking something of a backseat at networks historically known for their reality hits. "As traditionally unscripted nets get into scripted, a huge percentage of their marketing budgets go to those new shows," our senior cable exec says. "Look at Bravo's Odd Mom Out or Royals on E! Those are bigger marketing buys than those networks have ever done. That means they had less money to promote original unscripted content."
This shift in priorities obviously irks some reality producers, who are quick to point out that the many of the new scripted shows have been ratings flops. USA Network's comedy-reality show Chrisley Knows Best, for instance, regularly pulls in bigger numbers than many of the channel's fully scripted series. And while reality shows aren't as cheap as they once were — competition for staff has driven up overhead — a senior cable execs notes that, at between $350,000 and $500,000 per hour of programming, the average unscripted series costs about one-fourth as much as a high-end drama, for which networks can pay up to $2 million per episode.
But there's yet another layer of complexity at play for programmers: The risk-reward ratio isn't as simple as it once was. The rise of non-linear viewing via Netflix and Amazon is also spurring more consumers to become cord-cutters, ditching costly cable subscriptions in favor of limited digital on-demand services. The number of cord-cutters is relatively small now, but their ranks are growing — so much so that media stocks were pummeled last month over fears that the trend will soon start having a significant impact on bottom lines. Cable networks, particularly smaller ones, know that cable providers (Comcast, Time Warner, et al.) are beginning to move aggressively to offer consumers less-expensive programming packages — often called "skinny bundles"—  to keep them in their corded ecosystems. Networks that don't offer compelling, must-see programs risk being left out of those slimmed-down packages. And with a few exceptions, programmers have found it far easier of late to stand out with comedies and dramas than with reality. "It feels like where you can make a difference and have an impact on the brand these days is with scripted television," our former cable suit says. Plus, as the head of one leading reality production company concedes, "A great scripted show can [generate] a lot of positive critical attention, kudos that are often denied to the great unscripted shows."
What's more, the high cost of scripted programming has been somewhat offset by the fact that Netflix, Hulu, and Amazon are now willing to shell out significant sums for streaming rights to comedies and dramas — but, increasingly, not reality shows. A Bloomberg article last spring noted a decision by Amazon Prime to end a streaming deal for MTV Networks reality shows such as Teen Mom. And around the same time, Netflix's Sarandos seemed dismissive of the genre when he told an investor conference in May that reality "hasn't been a great category for us" because "reality basically doesn't have much of a long shelf life."
Reality-industry executives don't dispute this, but they unanimously scoff at the notion that lack of interest from Netflix or Amazon will have any significant impact on their business. "It's true that streaming has made scripted a more desirable business, and makes it easier for networks to monetize those hours," one reality insider says. "But I don't think it correlates to unscripted becoming less desirable." This is because the financial model for unscripted shows has never depended on their ability to be repeated over a long period of time. The whole reason production costs are kept low on most reality shows is because producers know there's not going to be some syndication deal waiting for them, on any platform. "These shows are a little disposable; that's always been the case," the insider says.
Still, some speculate the shift away from linear TV viewing (where networks tell you what to watch, and when) to on-demand (I'll watch your show on Hulu or Netflix when I'm good and ready) is having a particularly strong effect on reality. While the evolution in how TV is consumed has resulted in across-the-board ratings declines for nearly all programs, unscripted shows —particularly those on cable — may be suffering more because they've historically relied on what industry types call "discovery" to build an audience. Before the rise of streaming, anyone looking for TV entertainment on a lazy Sunday might surf over to MTV or Discovery Channel and find herself sucked into a Jersey Shore or Deadliest Catch marathon. Networks ran those marathons to fill airtime, sure, but they were also designed to get audiences to discover — and get hooked on — their latest offering. You can see the dynamic at work in the growth trajectory of a program such as Duck Dynasty: It grew from just under 2 million viewers with its first episode in March 2012 to more than 6 million for its second-season finale a mere nine months (and 27 frequently repeated episodes) later.
Cable channels still run reality marathons, but ratings for those weekend programming blocks have dropped dramatically, even more than prime-time numbers, one top cable exec says. "Now viewers binge-watch reality shows by streaming it or watching it on their DVR," the suit explains. "The process of discovery is much harder." Add in the aforementioned disparity between how networks market scripted and unscripted shows, and it's not a stretch to theorize these structural changes are at least partially preventing the next Duck Dynasty or Keeping Up With the Kardashians from emerging.
Despite all of these headwinds, those who work in the reality business remain remarkably — almost shockingly — optimistic about their industry's ability to survive a rapidly evolving TV universe. Even when talking off the record, encouraged by a reporter to confess their worst fears about where reality is headed, they remain convinced the genre's future remains bright. "I don't think reality is in trouble," the reality-production-company chief says. While American Idol will finally sign off the air next year, most of the other big hits from reality's early years are still doing remarkably well, holding on to their core viewership even as scripted hits launched around the same time fade away. "It's like they've been grandfathered in with the audience," the production executive says. Look for networks to step up efforts to find spinoffs of these older shows, a strategy that has worked with Fox's Masterchef Junior and ABC's Shark Tank extension Beyond the Tank.
There's also the possibility that the scripted boom could soon turn into a bubble, leaving unscripted in a (relatively) stronger position. One producer notes comedies and dramas still carry "far more financial risk than with most unscripted shows," implying networks may soon start putting more resources into reality. Some unscripted insiders also believe that as the kids who've never known a world without Big Brother or The Bachelor become adults over the next few years, they will be even more likely to see out seek out reality shows than their elders. "I think young viewers are only more attracted to unscripted content, no matter what delivery method or form of distribution," one industry insider says. "Most of the highest-viewed digital content, if you include YouTube, etc., is non-scripted." A cable reality chief agrees, conceding that while the "rate of growth might slow" — the boom days are, indeed, over — he believes the unscripted ecosystem is too established to simply disappear, or even dramatically shrink. "It's hard to see a regression," he says. "I don't know what you replace it with."