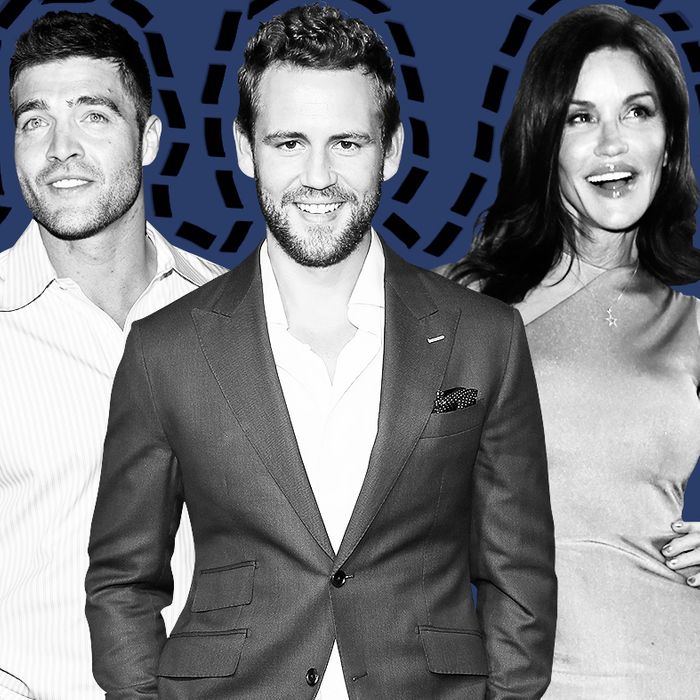 Photo-Illustration: Vulture and Photos by Getty Images
All week long, Vulture explores what happens to reality-TV contestants after the show ends — and the future of the genre itself.
There's a quote attributed to Albert Einstein that says insanity is doing the same thing repeatedly and expecting different results. Well, Einstein never spent a Sunday in his pajamas on the couch surrounded by three Seamless bags, neck-deep in a Love & Hip Hop: Atlanta marathon. If he had, Einstein would know that the real insanity in reality television is that everyone keeps doing the same things, just slightly different enough for us to tune in anyway. What is life post–reality television? More reality television.
Once upon a time, when reality TV was first starting in the early '90s, we thought the participants were all there to get attention so they could do other things: Heather B. from the original Real World wanted to be a rapper; Colleen Haskell from the original Survivor wanted to be an actress. Those days are over. Reality fame is a career choice and, quite possibly, will soon be a major at more liberal institutions like Sarah Lawrence. For the aspiring, the ability to create drama onscreen is as bankable a skill as knowing which stocks to buy or how to code. For viewers like me, we started paying attention around Trista and Ryan Sutter and left with a whole new reality obsession, the same way you go to the all-you-can-eat buffet for chicken wings and end up setting down with a plate of the best dumplings you've ever had in your life.
As for producers, creating one good reality program is never the goal anymore. Instead, they're creating franchises or pockets of some alternate dimension where everyone is "there for the right reasons" and "not here to make friends." Think of it like the Marvel Cinematic Universe, but on the small screen, and just like you have to sit through Ant Man so that Avengers 45 will make sense, you have to watch Bachelor in Paradise just in case it will have some bearing on a future Rose Ceremony. (For the record, there are far more shirtless men and far fewer superpowers in Bachelor in Paradise than in Ant Man, but in the pool scenes, there is often the same amount of shrinkage.)
There are five ways in which the reality merry-go-round plays out. The first is innocent: former participants returning for a cameo on their old show. This summer, Big Brother 16 contestant Frankie Grande popped by the Big Brother house to take two winners of a luxury competition to his sister Ariana's concert in L.A. This is sweet, and makes the past cast member look grateful, like when a Top Chef winner comes back to help Padma see who made the best ceviche out of ingredients found in a nursing home's deep-freeze.
Then there are the lifers. The ultimate expression of this is MTV's The Challenge (formerly known as Real World/Road Rules Challenge, back when people still cared about The Real World and there was such a thing as Road Rules). Look at someone like Chris "CT" Tamburello, who was on The Real World: Paris in 2003 before graduating to The Challenge the following year. He has since been on the show more than ten times. Essentially, the only job of his adult life has been working on MTV game-shows. (Is this an endorsable skill on LinkedIn?) The Bachelor/Bachelorette Industrial Complex also relies heavily on casting the same people in multiple iterations. Not only do former contestants return as the main attraction, with their shot at choosing a mate in a televised auction, there are contestants who show up repeatedly, like Nick Viall, who has been dumped twice before an audience of millions. Sometimes participants even swap universes, like the "twinnies" from The Amazing Race heading over to CBS sister show Survivor.
We see this reality-television vortex most clearly in what we'll call the secondary market, which, surprisingly enough, often has bigger ratings than whatever show these people came from in the first place. I'm talking about series like Celebrity Apprentice, where Real Housewives NeNe Leakes, Brandi Glanville, and Kenya Moore can get in a blood feud with another reality star in front of a future Republican candidate for president. This plays out like The Avengers of reality television, banding our disparate heroes together so they combine their powers for good — or evil. (In the algebra of reality TV, two screaming women next to each other is not like adding them together, but squaring them.) Dancing With the Stars also samples heavily from the reality pond. It has plucked two offspring each from America's First Families of reality television, the Kardashians and the Osbournes.
Then we fall a couple tiers lower. Here we have D-list shows that prey on the desperation of former reality stars to get back into the spotlight, the ne plus ultra of which is WE TV's Marriage Boot Camp: Reality Stars, which has now pumped out four seasons. Who doesn't want to watch Syleena Johnson and Kiwane Garris talk about their relationship woes? Who are they, you ask? They were on R&B Divas. What's R&B Divas, you ask? It's a reality show on TV One. This show is so desperate for any reality star it can lure into its orbit that Sundy Carter from Basketball Wives L.A. was on the show to work on her relationship with herself, because she was there alone. (I would say that we are only a step away from watching reality stars masturbate on television except, well, it's already happened.) Still, I am forever in Marriage Boot Camp's debt. From there I learned about Traci Braxton, who led me to the mind-bending world of Braxton Family Values and its own brand of catchphrase-coining, weave-tossing television infamy. There I met Tamar Braxton, the sort of unicorn who was invented to have her every giggle documented for the camera, whether it's on her home show, Dancing With the Stars, or The Real.
The foreign market, meanwhile, is a parallel universe where reality stars can begin the cycle anew. It's like Brad Pitt doing a Japanese Coke commercial, except all that anyone is selling is themselves. Recent contestants on Celebrity Big Brother U.K. include: the Situation, Perez Hilton, RuPaul's Drag Race judge Michelle Visage (oh, poor Michelle!), barely remembered A-List personality Austin Armacost, and reality-TV succubus Janice Dickinson.
Dickinson's career trajectory alone may be the best example of how the reality-TV snake is eating its own tail. Since appearing as a replacement judge on America's Next Top Model in 2003, Dickinson has appeared in Surreal Life, The Janice Dickinson Modeling Agency, I'm a Celebrity … Get Me Out of Here, Abbey & Janice: Beauty & the Best, I'm a Celebrity … Get Me Out of Here again, British show Come Dine With Me, Celebrity Rehab With Doctor Drew, and, finally Celebrity Big Brother. That's nine shows in 13 years.
It turns out that doing the same things over and over again slightly differently does produce insanity, but not the straitjacket-in-a padded-room kind. It's the sitting-at-home-with-your-mouth-on-the-floor-because-you-can't-believe-that–Real Housewife–Lisa Vanderpump–just-passed-out-on–Dancing With the Stars–and-it-might-have-been-fake kind. Like a GIF of someone getting wine thrown in their face, reality TV is programmed on an endless loop, and you would be crazy to look away.