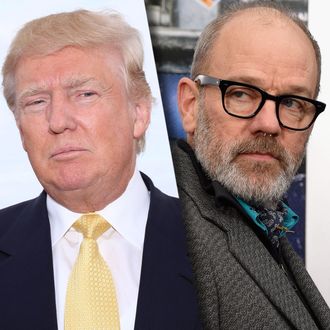 Donald Trump's taste in music — while perhaps common for the sexagenarian demographic — has caused him some woes since he announced his presidential campaign back in June. Searching for a good and catchy theme song to roll out on the campaign trail, the Donald initially declared himself a Neil Young man, using the classic "Rockin' in the Free World" for an early summer rally; the song was promptly reclaimed by Young and given to Bernie Sanders as retaliation. Now R.E.M. have swiftly followed suit. At a rally in Washington, D.C., yesterday, Trump chose "It's the End of the World" as his pump-up music while he walked to the podium. The band wasn't thrilled.
Founding member Mike Mills quickly took to Twitter to vent:
However, things took an angrier turn when lead singer Michael Stipe began tweeting from Mills's account.
The band later issued an official statement on their Facebook page:
"While we do not authorize or condone the use of our music at this political event, and do ask that these candidates cease and desist from doing so, let us remember that there are things of greater importance at stake here. The media and the American voter should focus on the bigger picture, and not allow grandstanding politicians to distract us from the pressing issues of the day and of the current Presidential campaign."
So there goes R.E.M. Mr. Trump, if you ask us (which you totally should), may we suggest asking the Presidents of the United of America (get it!?) to slightly change the words to "Lump." "He's Trump / He's Trump / He's Trump / He's in my head."