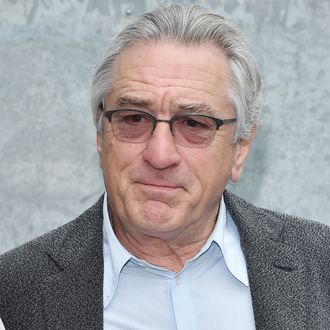 Press tours are hard.
Photo: Jacopo Raule/Getty Images
Robert De Niro may not immediately strike you as the most Zen person who ever lived, but even he values his chill like the rest of us. So when Emma Brockes, an interviewer for the Radio Times, started asking how he's able to resist going into "autopilot mode on set" after all these decades in the biz, he apparently didn't like what she was getting at. And when she probed him about Tribeca — home to the film festival he founded in 2002 — now being "overrun by bankers," he cut the interview short. He reportedly accused her line of questioning of having a "negative inference" before walking out. (Maybe he just got done watching Key & Peele?)
Things got especially testy, Brockes says, after De Niro told her, "I'm not doing this, darling." When she called him out for using a "condescending" word like "darling" to refer to a woman interviewing him, he allegedly responded, "Oh, you think 'darling' is condescending?" Then the interview ended. She describes De Niro as seeming "depressed" during the exchange, so maybe it's time he takes some advice from his new Nancy Myers movie, The Intern, and get back on the tai chi bandwagon.