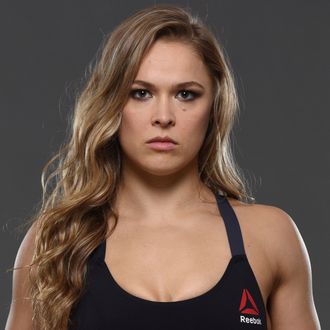 Sure, but does she have a philosophy degree from NYU?
Photo: Jeff Bottari/Zuffa LLC/Zuffa LLC via Getty Images
Ronda Rousey's new job is to be nice, until it's time to not be nice: Variety reports that Rousey has signed on to star in a remake of Road House for MGM. Rousey will inherit Patrick Swayze's role as a mild-mannered bouncer who everyone thought would be bigger, and she reportedly sought permission from Swayze's widow before taking the part. The Road House remake is the fourth film in development for the UFC fighter, following her recently announced biopic, as well as The Athena Project and Peter Berg's Mile 22. It is unknown if Rousey — who has a 12-0 record in professional mixed martial arts — agrees that there are no winners in a fight.