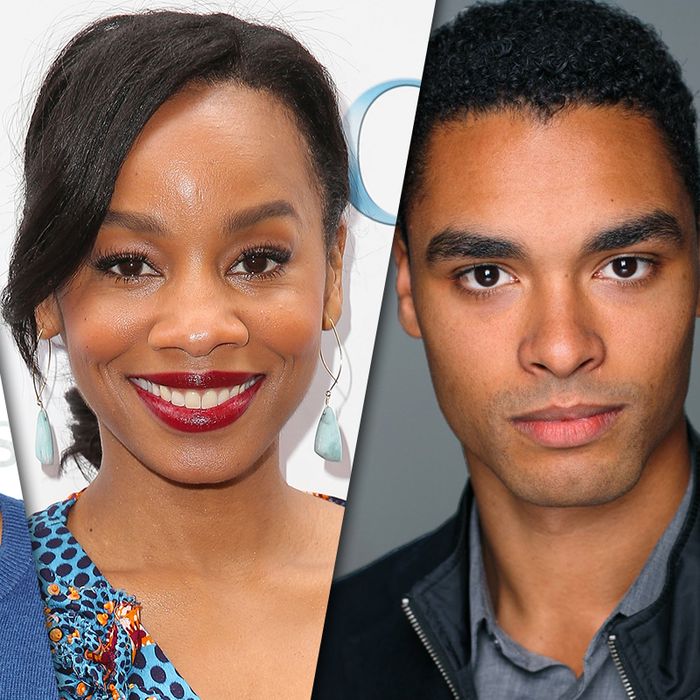 From left: Malachi Kirby, Anika Noni Rose, and Rége-Jean Page.
Photo: Dave M. Benett/Imeh Akpanudosen/Getty Images/Dina Karklina
A&E Networks' Roots remake has already found its Alex Haley, and now the mini-series has filled out the rest of its cast. As you might expect from a project spanning more than a hundred years of of American history, it's a large ensemble, including two Oscar winners, veterans of The Good Wife and The Wire, and two newcomers in crucial roles.
In the parts of Haley's ancestors, we have:
• British actor Malachi Kirby in the pivotal part of Kunta Kinte, played by LeVar Burton in the original. In the Roots book, Kinte was Haley's Gambian ancestor who was brought to America in the Atlantic slave trade, though aspects of this account have been disputed.
• The Good Wife's Anika Noni Rose as Kinte's daughter Kizzy, the first member of the family born into slavery. Rose played ambitious prosecutor Wendy Scott-Carr on the legal drama, and voiced Tiana in The Princess and the Frog. In 2004, she won a Tony for her role in Tony Kushner's Caroline, or Change.
• British newcomer Regé-Jean Page as Kizzy's son Chicken George, the first member of the family to be granted his freedom. A veteran of British TV, Page most recently played an inexperienced teacher in the school drama Waterloo Road.
And the supporting cast:
• Forest Whitaker, last seen being portrayed by Jordan Peele in baby form, as a fellow slave who befriends Kunta Kinte and assists him in his escape attempts.
• Anna Paquin as a Confederate officer's wife "who has her own agenda when it comes to the handling of slaves."
• Jonathan Rhys Meyers as Tom Lea (called "Tom Moore" in the original mini-series), a slaveowner with a twisted relationship to Kizzy and Chicken George.
• The Wire's Chad Coleman as "a stern no-nonsense slave who keeps the Lea plantation afloat."
• Justified's Erica Tazel as Matilda, a Christian slave who later marries Chicken George.
• Derek Luke, late of Empire, as Silla Ba Dibba, a Gambian military leader.
Production is already under way in New Orleans, with a simultaneous premiere on History, A&E, and Lifetime at some point next year. Good luck at either the 2016 or 2017 Emmys, all of you!