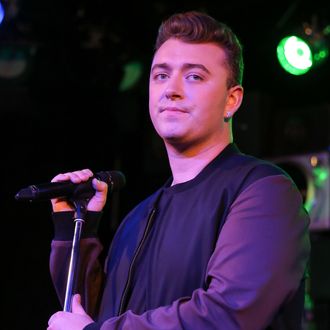 Sam Smith.
Photo: Chelsea Lauren/Getty Images
Who will be the voice behind the next James Bond theme song? Multiple reports said Sam Smith on Monday, after the singer posted a cryptic, captionless pic of a ring emblazoned with the Spectre insignia to social media. It wouldn't entirely be a surprise if Smith were the selection, as EW notes that British bookies have pegged him as the latest front-runner to follow up Adele's Academy Award–winning "Skyfall." Of course, the pic could also mean that Smith is just a huge Bond fan, or that he might have secured another role in the Spectre film. But this update fits nicely with director Sam Mendes's claim that the new theme had been recorded a few months ago and that the voice behind it would soon be revealed. Smith has also begun bouncing back from vocal-cord surgery, and this would be the ultimate cherry on top of the comeback. If it's not Smith, though, Billboard notes that other such artists as Ed Sheeran, Ellie Goulding, Lana Del Rey, Lorde, and Noel Gallagher could also be contending for the honor.
Here's Smith's nebulous pic:
Speculate away.