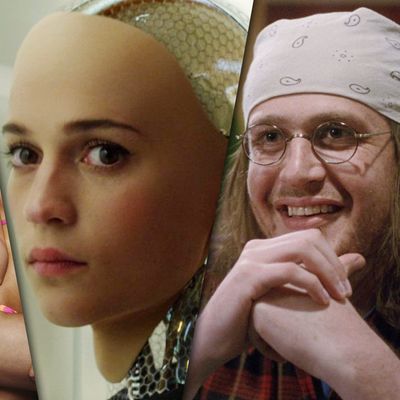 Photo: Muse Productions, DNA Films, Modern Man Productions
Who will save Hollywood? Slate has a new suggestion, and it's a bold one. In a profile of the indie distributor A24, David Ehrlich suggests that the upstart's model — a sort of substance-over-size, laser-focused approach to prestige and indie distribution — could provide a blueprint for an industry that's basically forgotten how to make and sell serious mid-budget movies to adults.
"By surgically inserting each release into the zeitgeist, [A24] has paved a new road for provocative, modestly sized cinema, bridging the gap between microbudget indies and monolithic studio products in much the same way Italy's Autostrada A24 connects Rome to Teramo," Ehrlich writes, citing in particular one of the company's earliest films, the gonzo genre hybrid Spring Breakers, and this fall's awards play Room, which it acquired at the script phase — rare for a distributor of this type. That idea of surgical insertion can best be seen in A24's Twitter account, the efforts of which I've highlighted before, though Ehrlich also focuses on its films' innovative marketing campaigns, surprising topicality, and the general idea of responding to an obvious need in the marketing place.
Before we get into this, a caveat: I love A24, I admire them, I've written thousands of words about their filmmakers, and I believe that a few of their releases, especially Spring Breakers, Ex Machina, and The End of the Tour, are among the best movies of the last few years. But how legit is the idea that this company could save prestige filmmaking — or Hollywood in general? Where does that bridge actually lead?
First, it's important to situate A24 properly within the cinematic landscape. This year the company has distributed ten films in theaters, some in conjunction with DirecTV, with whom the company has a partnership that's been reported to be as lucrative as $40 million. A24 also received a $50 million line of credit about a year ago. But so far in 2015, A24's films have grossed $50 million — combined. By comparison, there are 16 films so far this year that have grossed more than $50 million on their opening weekends. A full half of A24's yield came from Ex Machina, one of 2015's great success stories, but also a more expensive project than the studio normally backs; at $15 million, its budget means that, with marketing and other costs included, the film was likely profitable, but not by much. That's fine, since it's more important to A24 that its films get seen than make money. But the company's highest-budgeted movie so far, J.C. Chandor's A Most Violent Year — which, like Ex Machina, stars Oscar Isaac — didn't do so hot, costing $20 million to make and bringing in $5.6 million in theaters.
At the moment, A24 is playing to an audience of film nerds and high-frequency moviegoers, and the question of how to expand that audience is a thorny one. The End of the Tour, James Ponsoldt's travelogue of David Foster Wallace and David Lipsky, made less than $3 million in theaters despite being an excellent movie and having a marketable star in Jason Segel. Does The End of the Tour really feel like a bigger movie than $3 million? Maybe in the 1990s it would've, but today it's hard to imagine selling a general audience on the idea of watching two dudes drive around the Midwest and talk, no matter how well it's done. Even that kind of money is new for A24: Last year its films grossed a grand total of $13 million, highlighted by Obvious Child's $3 million.
Room could be a real test. It's based on a best-selling novel, and it has a star, Brie Larson, who not only graces magazine covers but also has Oscar momentum behind her. The 2013 movie Under the Skin, which A24 distributed in the U.S., was weird enough that it came as no surprise when Scarlett Johansson couldn't propel it to a big gross, but Room, quirks and all, is an accessible film with wide appeal. Its director, Lenny Abrahamson, talked at length to Ehrlich about the level of freedom and support A24 gave him during production. (Remember also that A24 has yet to finance a film of its own — future plans aside, it's a distributor above all else.) A24 received a cash infusion from the exceptionally flush Guggenheim Partners at the beginning of its life, and while that doesn't make it directly parallel with Megan Ellison's fairy-godmother approach to her production company Annapurna, it is a reminder that moviemaking is a pricey biz.
As an indie, A24 doesn't play the Hollywood game of franchises and superheroes, nor does it have to. What it does seem to be doing is offering stars and filmmakers a chance to chase their most eccentric and esoteric of muses (have you seen Enemy? I love it, but, like, SPIDERS), and that could be the way it genuinely does make an impact on Hollywood. While the company's coolness and slick promotion will always be the envy of insiders, the public doesn't give a damn about business strategy. What the public does give a damn about are bold movies, a promise that Ex Machina fulfilled. If A24 can resurrect the auteurist culture of New Hollywood in the 1970s — an obvious influence on A Most Violent Year — and the vivacious anti-authoritarianism of Tarantino and Soderbergh in the '90s, it could perhaps nudge Hollywood more in a risk-taking direction.
Yet this line of thinking presumes that the Hollywood Establishment has misgivings about its current trajectory. Universal would be the first to tell you that it doesn't need saving — even if Americans aren't going to theaters like they used to, they'll still turn out for the right extravaganza, and the continuing growth of overseas markets provides more than enough opportunity for profit. The fact remains that what A24 does is in direct opposition to the way the studios are currently operating, and for a reason. In blockbuster-land, auteurism isn't an opportunity — it's a disease that threatens the safe passage of its moneymaking properties, ones with which audiences are already familiar.
Most of the time, when the phrase "saving Hollywood" gets tossed around, it means shaping a Hollywood more in the image of the writer's own tastes. I respect that inclination, and I'm certainly onboard with Ehrlich in thinking that A24 puts out far, far more interesting fare than, I don't know, Minions. We just need to remember that A24 is fighting a battle that's not only uphill, but actually, like Andrew Jackson in New Orleans, possibly already over. It isn't that Hollywood can't be saved. It's that it might not want to be.