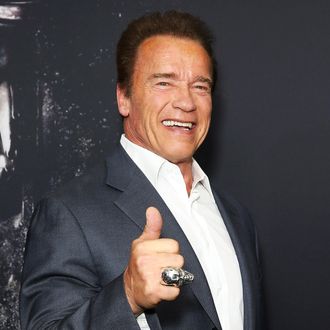 Victory!
Photo: Don Arnold/Getty Images
In a masterful move, NBC replaced one aspiring political candidate with an actually successful one: Former governor of California Arnold Schwarzenegger will host The Celebrity Apprentice for the 2016-17 season. That said, NBC made many references to its former host, Donald Trump, who is currently engaged in a different kind of reality show known as America's Next Top Republican. "Arnold Schwarzenegger is the epitome of a global brand in entertainment and business, and his accomplishments in the political arena speak for themselves," said Paul Telegdy, who runs alternative and late-night programming at NBC, in a statement. "After leaving the show to run for political office, Donald made it clear that he wanted The Celebrity Apprentice to be able to continue to raise millions of dollars annually for worthy causes, and now NBC and I have found an amazing new leader to do just that," added executive producer Mark Burnett.
NBC fired Trump in June, removing him from his hosting duties and as producer following racist comments he made in his bid for the presidency. According to Trump, NBC was begging him to do The Apprentice, but that the "equal time" rule that says political candidates should get equal airtime, prevented him from doing so. (Actually, according to the FCC, this is no longer a thing.) Or, put more simply, "I can't. I want to make America great again." Let's check in next year, shall we?