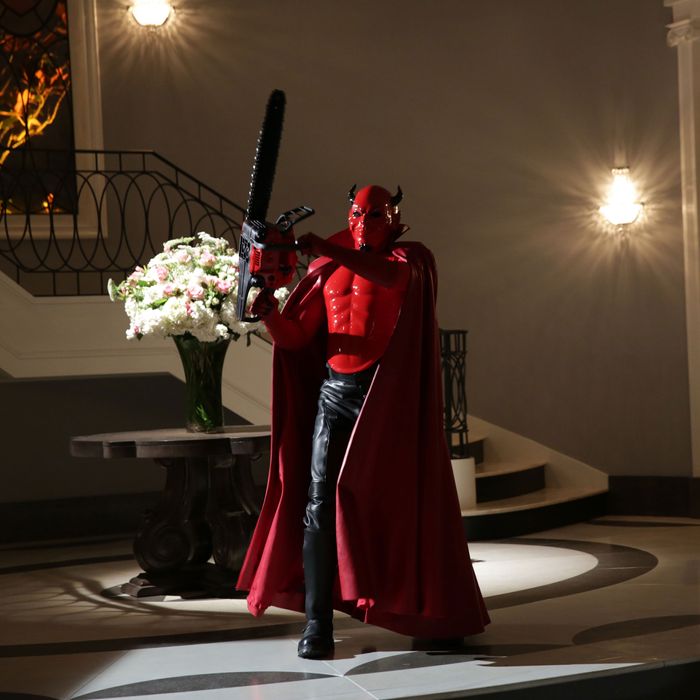 Ahhh!
Photo: Patti Perret/FOX
Along with the snark, social commentary, and balls-out shrieking on Ryan Murphy's new slasher satire, Scream Queens, are two mysteries: Who's the devilishly dressed killer brutally sticking it to Kappa Kappa Tau sorority sisters (plus assorted other victims); and who was the baby born and orphaned during an epic 1995 house rager? Could they be one and the same? Here's our lineup of possible suspects. Spoilers ahead! 
Airtight Alibis
Reigning sorority queen Chanel Oberlin (Emma Roberts) and her subservient sisters, Chanels No. 2 (Ariana Grande), No. 3 (Billie Lourd), and No. 5 (Abigail Breslin), are the targets of the killer, who's already offed No. 2, and later unsuccessfully tried to throw No. 1 out her bedroom window. When that didn't happen, he/she painted "sluts will die" in red on the wall, so they're, um, eliminated. (Unless No. 2 somehow reanimates — the Scream Queens IMDb page lists Ariana Grande as appearing in four episodes.)

KKT's affirmative-action misfit pledges, including neck-braced nerd Hester Ulrich (Lea Michele), presidential wannabe Zayday Williams (Keke Palmer), stone-deaf Taylor Swift acolyte Tiffany (Whitney Meyer), candle vlogger Jennifer (Breezy Eslin), and nameless p.c. lesbian (Sue-Lynn Ansari), were up to their necks in the "sexy gopher whore-head challenge" when the lawnmowing devil struck, so they're out.

Though legacy pledge Grace Gardener (Skyler Samuels) skipped the hazing, her first night at school she's seen gazing up at the KKT house as the devil looks on, and she then gives chase. So she's not a suspect. In fact, the killer has had plenty of opportunity to kill Grace and doesn't, so she's not even on the hit list. Is she the sorority-house baby? Her memories of her mother are few. And her '90s-power-ballad-loving professor Dad, Wes (Oliver Hudson), wasn't thrilled to hear his baby girl wanted to rush KKT, even though it's one of her few links to her mother.
Persons of Interest
Gigi Caldwell (Nasim Pedrad), president of KKT's national chapter, shows up to rescue her sisters when Dean Cathy Munsch (Jamie Lee Curtis) tries to revoke KKT's charter due to alcoholism, drug abuse, racism, and possibly bestiality. When Zayday questions her outdated outfits, Gigi tells her she had a "traumatic experience that kept my psyche forever trapped in the '90s." Though she's likely not the devil, perhaps she was around for the '90s newborn incident?

Newspaper editor/barista Diego Boneta (Pete Martinez), believes KKT is dangerous. After his snooping around the dean's office uncovers the "Kappa house party '95" file and its list of five names, the killer clocks him on the head but doesn't do him in. Instead, Diego wakes up tethered to a building, sporting an "MYOB" (mind your own business) sign. Is he unknowingly in league with the devil? After all, his mascot costume looks a lot like the one the murderer wears. But maybe he's the baby? Grace notes his age, 19, is the same as the infant's would be.
Prime Suspects
Dean Munsch's disdain for Greek life is no secret. When she tries to revoke KKT's charter, she tells Chanel it's personal, that she represents "everything that is wrong with young girls nowadays." Still, the dean wouldn't knock off a pledge — or would she to get the house kicked off campus? And why, along with now-deceased maid Ms. Bean (Jan Hoag), did she help cover up the new mother's death in 1995? She tells Wes she can "guarantee" Grace isn't a target. And we do see her in front of KKT as Wes and Gigi drive off for coffee — and before someone stabs Shondell, the hapless security guard.

Chanel's studly, ambivalent golfing-fraternity boyfriend Chad Radwell (Glen Powell) has quite the necrophilia obsession — he admits he'd like to have sex with a corpse, and got his "first boner watching Faces of Death." His closeted best bro Boone (Nick Jonas) is certainly bedeviled by him. And Boone's sure glad to see the masked killer when he shows up at the morgue and pulls his resurrected body out of the deep freeze.