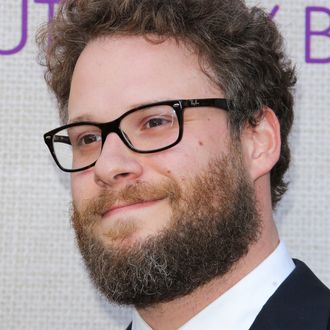 Seth Rogen.
Photo: Paul Archuleta/FilmMagic
Seth Rogen, Evan Goldberg, and Sam Catlin's Preacher has passed the pilot test, and AMC is ordering the comic-book adaptation to series. Rogen announced the good news via Twitter on Wednesday, writing, "the beginning is nigh." THR adds that AMC is picking up ten episodes of the Garth Ennis– and Steve Dillon–inspired material, the first installment of which is set to debut in mid-2016. Agent Carter's Dominic Cooper will star in Preacher as the Rev. Jesse Custer, the titular disillusioned and supernaturally powered preacher who embarks on a quest to confront God alongside a friend (Joseph Gilgun) and an ex (Ruth Negga). Others in the cast reportedly include Rake's Ian Colletti, This Is England's Joseph Gilgun, and True Blood's Lucy Griffiths. Catlin will act as showrunner and one of many EPs, with Rogen and Goldberg set to direct.
"We started reading the comic when it first came out in the '90s," Rogen and Goldberg have remarked of Preacher. "In many ways Garth's sense of drama and comedy and Steve Dillon's visual aesthetic helped form our style, and the idea that we are actually bringing Preacher to life is a dream come true. This is the craziest thing ever and we can't wait to move forward and work our asses off to make it the best it can be." If the series is anything like the source material, this show will be bananas; begin adjusting your morals and mind-set accordingly.
Rogen tweeted this very OFWGKTA-esque poster in celebration: