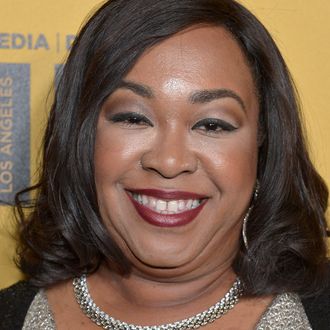 Shonda.
Photo: Charley Gallay/2014 Getty Images
There is no such thing as maximum idea capacity at Shondaland; there is no such thing as maximum Shondaland capacity at ABC. The network, according to reports, has nabbed yet another Rhimes-produced series. Not to mention it's a medical drama. This one, however, will be an army-centric exploration of an American medevac team's base camp in Baghdad during the Iraq War. (Yes, it might end up bearing similarities to Grey's Anatomy, but no, ultimately, it won't be a spin-off.)
Grey's veteran Zoanne Clack will serve as scribe and EP for the project (untitled at the moment), while Rhimes and Betsy Beers will help produce. Clack, who has been with Shondaland since its beginning, has a notable past as someone who has trained and worked in international emergency medicine — something that has already made her an asset on such series as Grey's and Presidio Med. The show joins a slew of preexisting Shonda-related properties at ABC (Scandal, Grey's, HTGAWM), as well as newer ones (The Catch, Splitsville, and a nun drama). Can't stop, won't stop.