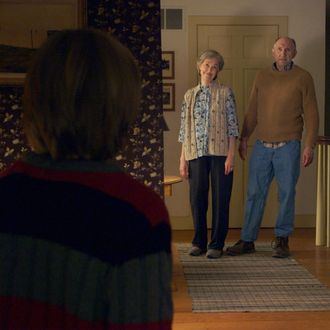 Photo: Universal Pictures
How many times have you been sitting in a darkened movie theater, watching what appears to be a promising trailer for some scary movie, only for the name "M. Night Shyamalan" to adorn the screen at the end, imbuing the room with sighs and moans? That name tends to conjure up in moviegoers a mix of ire and indifference, inspiring writers to pen headlines containing languid jokes about twist endings and dead people and killing word-of-mouth buzz before it starts. Even his most ardent defenders had to shake their heads at the befuddling mess of After Earth. But Shyamalan's new film, The Visit, a found-footage-style horror-comedy about scary grandparents doing scary things in the barren countryside of Pennsylvania, earned a surprisingly good $25.6 million its opening weekend. Shyamalan self-funded the endeavor using his $5 million directing fee for After Earth, which almost casts that atrocity in a new, more flattering light.
Though The Perfect Guy beat The Visit by $1 million for the top spot this weekend, Shyamalan's film has received far better reviews. Plus, it actually earned more money on Saturday than it did on Friday — 15 percent more, which is one of the best weekend multipliers for a horror film in the last 20 years. (The Sixth Sense remains the epitome of a crazy-good opening weekend, with each subsequent day besting the previous day for a $26.6 million total opening weekend; it made over $20 million each week for the next five weeks and stayed in the top ten for 15 weeks.) The only twist here is that The Visit had the second-worst wide-release weekend opening of Shyamalan's career, behind only the super-weird, sorta underrated 2006 fantasy film Lady in the Water (though The Visit's budget is approximately 1/14 that of Lady in the Water).
The rest of the weekend box office is less exciting than the return of well-reviewed Shyamalan. War Room put the fear of God in audiences again, filling its collection plate with $7.4 million, while A Walk in the Woods took the path to a modest $4.6 million. Mission: Impossible — Rogue Nation refuses to leave the top five (I've used up all my clinging-to-plane jokes by now), making another $4.1 million in its seventh week for a $188.1 million cume, while Straight Outta Compton made $4 million for $155.7 million in five weeks. The indie rom-com Sleeping With Other People seduced IFC moviegoers for over $103,000 across five screens.