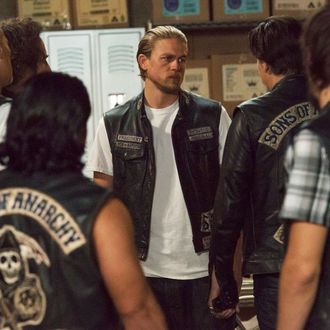 Yay?
Photo: FX Networks. All rights reserved.
Now that a Sons of Anarchy spinoff has been confirmed, there's already major thirst for more details. The show's creator, Kurt Sutter, has just that: While speaking to Deadline, he revealed the new series won't be a prequel along the lines of Better Call Saul, but will rather unfold a contemporary story involving the Mayans motorcycle club — though he says he does plan on writing a prequel at some point. And the spinoff could see some familiar faces:
"It's the same [biker] subculture, but it'd be interesting to see the influences of that culture and how it impacts the subculture we already understand. I would do a contemporary piece, not a prequel, and place it far enough away from Northern California that it wouldn't step on the mythology that's already been told. It doesn't mean that there couldn't be some cool, ironic crossovers with familiar characters as the series progressed. I wouldn't want to set it too close to the world we already know, and step on that. It would be cannibalizing what we worked very hard to create and I wouldn't do anything to undermine. We're figuring out what that would look like and I'm in the process of meeting with writers and narrowing it down. My intent is, over the hiatus I'll initiate a script for the pilot and take it from there."
While the spinoff is still in the early stages of development, Sutter says to expect "the influence of Spanish culture [to] create a different energy" than the Sons of Anarchy fans remember.