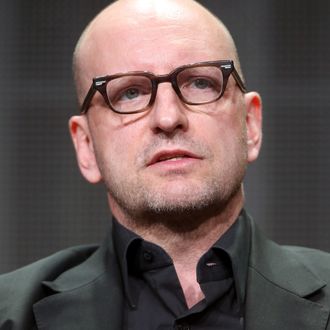 Choose your own Soderbergh!
Photo: Frederick M. Brown/Getty Images
Steven Soderbergh is going to take it to the next level. There isn't a lot known about the director's (and DP's, and editor's, and cameraman's …) upcoming HBO movie, other than that it's called Mosaic and will star Sharon Stone. In a statement released through the network, Soderbergh said, "I believe the good people at HBO are genuinely enthusiastic about Mosaic for two reasons: First, it represents a fresh way of experiencing a story and sharing that experience with others; second, it will require a new Emmy category, and we will be the only eligible nominee." EW reports that the narrative will require viewers to download an app that will allow them to choose their own adventure, meaning that there's a multiplicity of different possible endings. This will no doubt trigger compulsive reactions within people who need to know about every possible timeline.