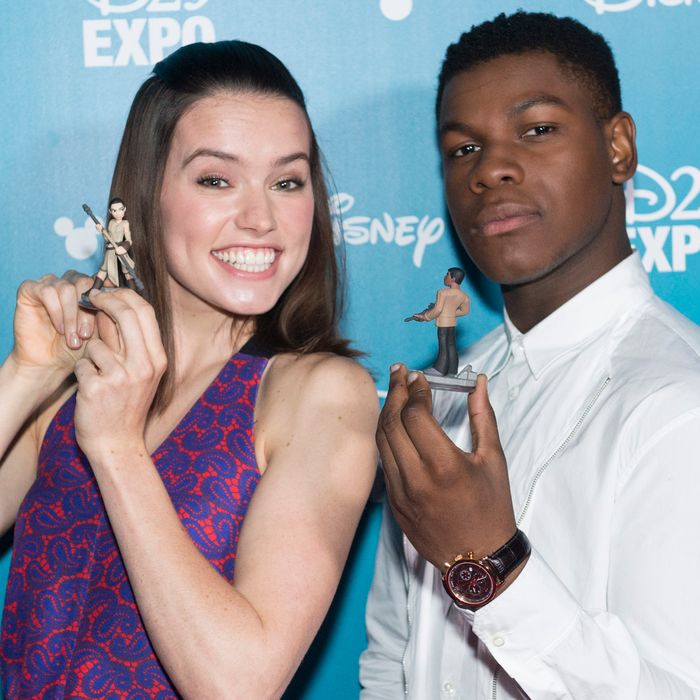 These are not the Daisy Ridley and John Boyega you're looking for.
Photo: Image Group LA/Disney/Getty Images
Today is Force Friday, the grand worldwide debut of all of the Force Awakens toys that you will be seeing at toy stores, and later garage sales, for decades to come. Most of the stuff on sale has little spoiler danger — we already knew there would be X-Wings and TIE Fighters in the movie — but if you're looking for hints to the movie's plot, look no further than the few talking toys to be released: masks of Kylo Ren (Adam Driver) and Captain Phasma (Gwendoline Christie), as well as an action figure of Finn (John Boyega). Besides giving us a glimpse of what everyone's voices sound like (Boyega sounds American, Christie sounds like Brienne, Driver sounds disconcertingly similar to his Girls character), the brief words these toys speak also reveal a few crucial story tidbits. Pull the cord, and let's explore.
KYLO REN (listen here)
He says: "I feel it, too."
We learn: At some point in Force Awakens, Kylo Ren and one other character feel something, together. Could it be the Force awakening?
He says: "You know what I've come for."
We learn: Kylo Ren will come for something. It will not be a surprise what he has come for.
He says: "Together, we will destroy the resistance and the last Jedi."
We learn: Like Darth Vader before him, Kylo Ren is trying to seduce someone else into joining the Dark Side. Also, apparently in new Star Wars canon, Luke Skywalker is still the last Jedi — no training academy on Yavin IV where teens can get into comical scrapes here.
He says: "Don't fight it. You know you can't."
We learn: Kylo Ren is a huge Kenny Loggins fan.
He says: "I'm immune to the light."
We learn: Kylo Ren is immune to the light.
He says: "The weapon is mine."
We learn: Kylo Ren has — or, conversely, does not but thinks he should have — an unknown weapon. Could it be Luke Skywalker's lightsaber, which occupied so pivotal a position in the film's trailer?
CAPTAIN PHASMA (listen here)
She says: "Move to your ships now."
We learn: Unlike Captain Kangaroo or Captain Beefheart, Captain Phasma apparently holds the actual rank of captain. At the very least, she's in charge of someone.
She says: "On my command."
We learn: As part of her captaining duties, Captain Phasma gives commands.
She says: "Fire, FN2187."
We learn: One of the people or things under her command bears the call sign FN2187. At one point in the film, she will order them to fire.
She says: "Submit your blaster for inspection."
We learn: Captain Phasma is a hard-ass about workplace safety regulations.
FINN (listen here)
He says: "The name's Finn, and I'm in charge now."
We learn: His name is Finn, and he's in charge now.
He says: "We go back to Jakku, we die!"
We learn: Finn will leave Jakku. Unlike Jack, he does not want to go back.
He says: "Stay low, and put up the shields!"
We learn: Because he is in charge now, Finn gives orders — possibly about flying some sort of spaceship?
He says: "We need cover, quick!"
We learn: J.J. Abrams's dialogue isn't that much better than George Lucas's.
He says: "FN2187."
We learn: Could this be Finn's call sign as a Stormtrooper? If so, it appears that Captain Phasma is his commanding officer. No bets on whether he obeys her command to "fire."
He says: "I don't know what to do."
We learn: At one point, he will be at a loss over what to do.
He says: "I never should have rescued you!"
We learn: Now the pieces are coming together. It seems likely Finn will be ordered to shoot someone but choose instead to rescue them. Later (after piloting a spaceship?) he will regret this decision.
He says: "Listen, I've had a pretty messed-up day."
We learn: John Boyega's American accent is basically just an impression of Harrison Ford.