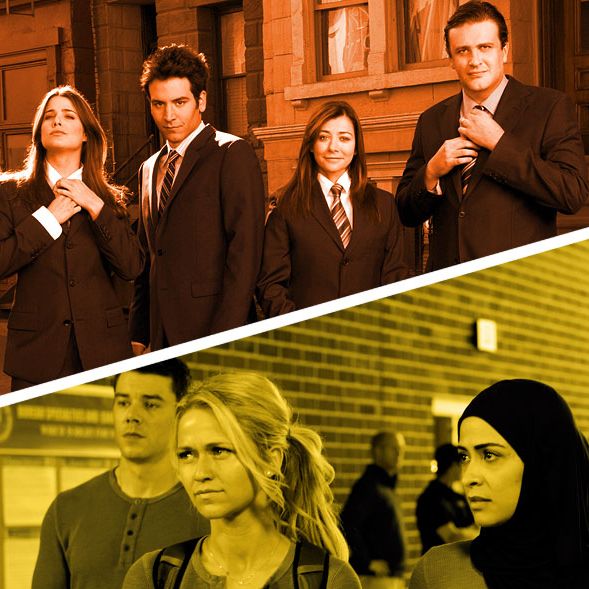 Welcome back to Stay Tuned, Vulture's TV advice column. Each Wednesday, Margaret Lyons answers your questions about your various TV triumphs and woes. Need help? Have a theory? Want a recommendation? Submit a question! You can email staytuned@nymag.com, leave a comment, or tweet @margeincharge with the hashtag #staytuned.
I've seen season one of How I Met Your Mother and liked it (mostly because of the charming cast), though it wasn't Parks and Recreation good (my comedy high standard). Is the finale so bad/disappointing that it ruins the whole program, or should I watch it all anyway? A bad finale is soul-destroying, so I don't know if I can go through that. —Alex
There are a lot of shows that eventually lose steam, particularly over the course of nine seasons, that I still recommend in this space. And at first I was going to tell you to go ahead and enjoy the next few seasons, then bow out once it gets shrill (say, around season five?), since you know it'll never recover. But the more I thought about it, the more I stand by my blood oath: I said I would never forgive the show for its finale, and I haven't. Alex, stop watching How I Met Your Mother.
It's not that the finale alone ruins the show — though oh, boy, what a pile of hot garbage that was. It's that the whole second half of the series gets weirdly sour, betraying what was the most enjoyable part of the show in its earlier phases. I watched every episode of HIMYM, and yet I can't imagine rewatching any of them for pleasure the way I rewatch Friends, or some episodes of The Office, or Parks, or dozens of other comedies. If you're looking for something to slot in in the ooowwww-my-heart spot, try Playing House.
My issue is with The Mindy Project. I want to like it more than I do, but isn't it mostly one-liners? Is it just insincere? Week to week, TMP asks its audience to take big leaps in its story and characters, and I am always frustrated. Am I alone in my demand for tighter scripts and stories? Am I the only fuddy-duddy who doesn't really care that it was canceled? —Elisa
Well, if you were alone in your dislike of the show, it wouldn't have gotten canceled in the first place. But I'm extremely relieved that Hulu picked it up, because even though I agree that it's a lot of insincere one-liners, I like it. I love opposites-attract couples on TV (less so in life), I love the costuming (especially Mindy's eyeglasses, a Pinterest board unto themselves), I love how the show is super raunchy without being degrading or degraded, and I love its throwaway lines. I remain not interested in watching Mindy and Danny parent, and I still think I'd prefer the show to reboot itself — keeping Mindy, Danny, and Morgan, and scrapping legit everything else, but that's not really a wish that will come true. TMP is far more character-driven than story-driven, though I'm not sure the show sees itself that way, given how much story tends to occur, but if you shift your focus away from the mechanics of the plot and toward the specifics of how the characters respond to their situations, you might have a better time.
I'm looking at the new shows for the fall, and nothing looks good. Is it really that dire? —NJ
Kinda! It's a pretty weak year for new shows. Let's take a very cursory look, network by network:

CBS
Angel From Hell, a single-camera comedy starring Jane Lynch: Seems fine, I guess, but hard to picture it as some kind of huge sensation.
Code Black, starring Marcia Gay Harden: Just a rehash of every doctor show ever.
Life in Pieces, a single-camera, family-set comedy starring a bunch of people: I do not care for this show one bit.
Limitless, based on the movie: It's another concept-y cop show! Yay!
Supergirl, based on, you know, Supergirl: I guess this is the CBS show people are most excited about, but it left me cold. So that's 0-5 for CBS for me. And perhaps for you!
NBC
Best Time Ever With Neil Patrick Harris, sort of a variety show: I don't like prank shows, and BTE is big on pranks. I'm not sure the populace is crying out for a variety series either, but your mileage may vary.
Blindspot, a psychological mystery thriller: Sort of okay, if you're in the market for yet another show built on the body of a naked, anonymous woman (here, a heavily tattooed lady with severe amnesia … and secrets). Would have really benefited from a different title.
Chicago Med, from Dick Wolf: It's like Chicago Fire and Chicago PD.
Heroes Reborn, starring Zachary Levi: Not available to critics yet. Given how poorly OG Heroes went, my expectations are low … except given how wonderfully OG Heroes started, there's a tiny shred of hope in my cold, dead heart.
The Player, starring Wesley Snipes: Oh boy, another show about an emotionally wounded man entangled in a world of glitz and crime.
Truth Be Told, a sitcom starring Mark-Paul Gosselaar: Isn't marriage and parenting so great, and also so terrible, and also isn't race in America complicated? So that's basically 0-5-1 for NBC. I suppose that in our chaotic universe, Heroes could perform a miracle, but hanging one's hopes on a revival of a show that wore out its welcome seems nutty.
Fox
Grandfathered, starring John Stamos: Fine.
The Grinder, starring Rob Lowe: Also fine. I can't see myself falling in love with either show, though comedies often take a few episodes to hatch.
Minority Report, based on the movie: Another high-concept cop show.
Rosewood, starring Morris Chestnut: It's so sexy being a private pathologist! This is a USA show from 2008.
Scream Queens, from Ryan Murphy: It's a true hybrid of Glee and AHS, set in a sorority. If you like to buy what Ryan Murphy is selling, this is your jam. If not, though, this is spiritual poison. 3-2, sort of, but in terms of "OMG, show, you are my new everything," 0-5.
ABC
Blood & Oil, starring Chace Crawford: Finally, a show that makes oil drilling sexy. (It doesn't, really, but it tries.) It's a lot like Nashville, in that it's obviously a soap but it's trying to be a purer drama.
Dr. Ken, a sitcom starring Ken Jeong: Oh, wow, is this a swing and a miss. Yeeeesh.
The Muppets, starring the Muppets: Whatever enthusiasm I have for this show is getting slowly quashed by the marketing. Like … Nathan Fillion fucked Miss Piggy? I don't want this to be part of the world.
Quantico, a political thriller: Even though it feels like a show from the post-Lost, let's-make-a-mystery boom of 2006 or so, I actually kind of dug it. It's Grey's Anatomy at the FBI, kind of. I like all those things.
Wicked City, starring Ed Westwick: L.A. in 1982, plus murder. ABC hasn't made the whole pilot available yet, alas. That's 2-2-1.
The CW
Crazy Ex-Girlfriend, a musical comedy: Yes. Yes. Yes. Yes. Dream come true. 1-0.
That's bleak! I'm genuinely looking forward to Crazy Ex-Girlfriend, and I can see myself liking The Muppets and Quantico, and maaaaaybe Scream Queens. Perhaps Grandfathered and The Grinder will come to feel more essential. Oh, well. At least we have returning favorites to look forward to, too.