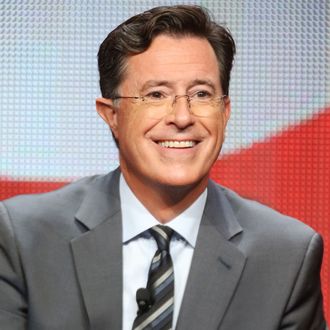 Stephen Colbert.
Photo: Frederick M. Brown/Getty Images
Just as the new Late Show host's first batch of guests was delightfully well-rounded, Stephen Colbert and Co. have revealed that that's not to be a fluke. And yes, there will for sure still be a major political focus and we will for sure probably learn things — the show is essentially looking like it will be The Colbert Report, just with more focus on interviews rather than satirical news updates. Notably for week two, Broad City gals Abbi Jacobson and Ilana Glazer will appear with Carol Burnett, Run the Jewels will perform with TV on the Radio, and An American in Paris actors will perform and interview. (Combination nation!) Variety notes that An American in Paris will be the first Broadway show to perform a vignette on Colbert's Late Show — a treat that Jimmy Fallon's Tonight Show loves over at NBC. On the political side, Justice Stephen Breyer (potentially as a harbinger of the Notorious RBG), Bernie Sanders, and Ban Ki-moon are coming. Score, CBS.
Here's the full roster for week two (via EW):
September 14
Emily Blunt
Justice Stephen Breyer
Performance: The Dead Weather
September 15
Jake Gyllenhaal
Performance: Run the Jewels + TV on the Radio
September 16
Kevin Spacey
Carol Burnett + Broad City's Abbi Jacobson and Ilana Glazer
Interview/Performance: Willie Nelson
September 17
Naomi Watts
U.N. Secretary-General Ban Ki-moon
September 18
Lupita Nyong'o
Senator Bernie Sanders
Interview/Performance: An American in Paris
If you can't wait 'til then to see all these people or to get your Col' Brew, find someone who got a ticket to one of these sold-out test tapings and do what you must. Or actually, just wait, because Labor Day's almost here (fun), and that means Colbert is almost here (more fun).