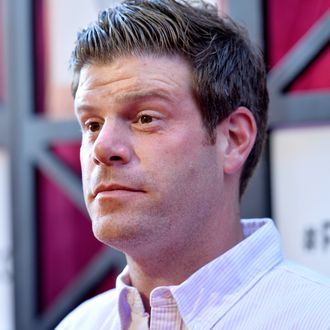 Steve Rannazzisi.
Photo: Frazer Harrison/FilmMagic
The League's Steve Rannazzisi is the latest celebrity to get caught up in our national pastime of lying about 9/11. For years, the comedian had woven a personal narrative around the attack on the World Trade Center, saying his narrow escape from the South Tower inspired him to give up his career in finance and chase his dreams in Hollywood. Now it appears the whole story was a fabrication. In a statement to the New York Times, Rannazzisi admits he was lying: "I was not at the Trade Center on that day. I don't know why I said this. This was inexcusable. I am truly, truly sorry." In his apology, Rannazzisi claimed he had first made up the 9/11 story as "an immature young man," and then found himself trapped in the lie, repeating his 9/11 story in podcasts and interviews over the years. Recently, he had begun amending his account, telling an interviewer in 2013 he was merely "working downtown" during the attacks. That, too, was a lie: He was really working in midtown, miles away from the scene.
The revelation will not affect Rannazzisi's role on The League, which is currently airing its final season. But in a statement to the Times, Buffalo Wild Wings indicated it was rethinking Rannazzisi's starring role in its ubiquitous sports-themed TV spots. "We are disappointed to learn of Steve's misrepresentations regarding the events of September 11, 2001," Buffalo Wild Wings said. "We are currently re-evaluating our relationship with Steve pending a review of all the facts."
Update: Comedy Central has issued a statement regarding Rannazzisi's upcoming special, Breaking Dad, set to air Saturday: "We are very disappointed to hear about Steve's misrepresentations and are currently determining how we will move forward." Meanwhile, FX released a statement calling Rannazzisi's story "upsetting."
Update No. 2: On Thursday, Buffalo Wild Wings announced it had pulled its series of ads starring Rannazzisi.
Update No. 3: Rannazzisi also apologized to Marc Maron for fabricating the story on his "WTF" podcast. On Thursday's podcast, Maron said that Rannazzisi spoke to him before the Times story broke. "He said, 'I need to apologize to you for lying to you. I'm sorry, it's not true, and I'm just not that guy who does that," remembered Maron. "I'm just coming clean, and I want to apologize to you."
For his part, Maron thinks this is mostly for Rannazzisi to deal with:
I don't know that he necessarily owed me an apology, I think it's the right thing to do to apologize for lying, but I need you guys to know that this is not 60 Minutes. If someone comes on this show and tells a story about their life, I will take what they're saying at face value. If people come on here and make stuff up, that's on them.

This is obviously going to be a life-changer for Steve, and he's gotta live with this. I appreciate the apology, it was a bad thing to do, but that's on Steve now, and that's his cross to bear on his conscience. And he's gotta live with the repercussions with what he did, and now owning up to it.