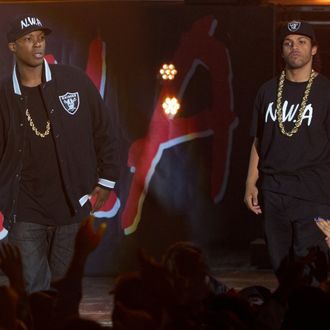 Straight Outta Ideas.
Photo: Universal Pictures
Now that Straight Outta Compton has become the highest-grossing music biopic of all time, taking the top spot at the box office for three consecutive weeks, some are beginning to ask: Can you turn rap history into a cinematic universe? According to The Hollywood Reporter, one agency hopes to do just that by making a film based on the 2001 documentary Welcome to Death Row, which Compton executive producer S. Leigh Savidge is pitching to studios as a sequel to the N.W.A biopic.
The doc (and subsequent book of the same name) follows the pivotal rise and fall of Death Row Records during the '90s. Its feature-film adaptation would include many of the same major players seen in Compton's third act — particularly label head Suge Knight and his star signees Tupac and Snoop Dogg — and would also flesh out Dr. Dre's timeline with the embattled label. (Compton rushes through Dre's involvement with Death Row, and ends with him leaving to start Aftermath.) It's unknown whether any of the actors from the first film would reprise their roles.
THR also reports that Savidge currently does not have any of the music rights associated with Death Row, but notes that he was able to license N.W.A's music after negotiating with Eazy-E's widow, and could do the same with Tupac's mother, Afeni Shakur. There are, however, two long-gestating Tupac biopics in the works from both John Singleton and Carl Franklin that could complicate those talks.
For now, here's the trailer for the Welcome to Death Row documentary's rerelease, which might give an idea of what a Compton sequel could entail: