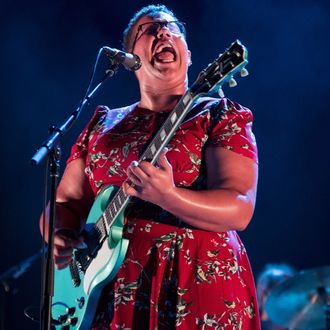 Yasss kween.
Photo: Erika Goldring/Getty Images
Earlier this summer, Alabama Shakes front woman Brittany Howard told Vulture that "there's no way to be original," in reference to the myriad influences on her band's latest album, Sound & Color. While that may be true, if there's any way to keep things fresh, it's to never stop moving forward via constant creation. In Howard's case, that means starting a side project, which she did three years ago with members of Fly Golden Eagle and Clear Plastic Masks. Together they form Thunderbitch, and today they released a self-titled album, which is streaming now on their site.
If you've grown fond of the blues rock Howard tends to make with Alabama Shakes, don't worry, that's still there ("Very Best Friend"), but overall, this is Howard's attempt at making a punk album — her Joan Jett moment, if you will. (There's even a song called "I Just Wanna Rock n Roll.") Blistering opening track "Leather Jacket" has her offering a withering stare in song form, speaking of the leather jack she's owned for "all these years of looking totally fucking awesome" like it's a badge of honor. The energy on the whole project is indeed thunderous, and Howard sounds like she's having a hell of a time. At this rate, we'll probably get another Alabama Shakes album by the year's end. Hear a brief snippet of Thunderbitch below.