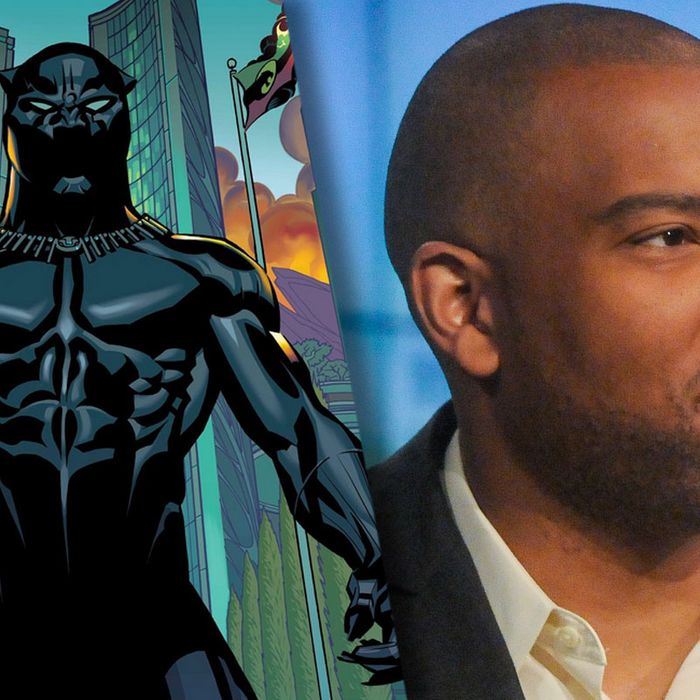 Superhero comics have always invited hyperbole and bombast from fans — and yet I still feel comfortable saying we just got the most significant superhero-comics news of the year. According to the New York Times, Ta-Nehisi Coates, one of America's most brilliant writers on matters of race (as well as many other topics), will be writing a new series about Black Panther, Marvel Comics' first and most iconoclastic black superhero. The series will hit stands sometime next spring.
A bit of background on Black Panther: He's a king from a fictional, extremely technologically advanced African nation called Wakanda. He has some slightly mystical powers but mostly relies on his blinding intellect and high-end weaponry. He was co-created in 1966 by comics legends Stan Lee and Jack Kirby — oddly enough, before the founding of the Black Panther party just a few months later. He's remained a staple in Marvel stories ever since, and will be first appearing in cinematic form in next year's Captain America: Civil War, with a solo movie in 2018.
And a bit of background on Coates: He's a giant superhero geek. I spoke with him about caped crusaders for more than two hours earlier this year, and I've never encountered an ostensible comics-industry outsider who was so intelligent and insightful about the subject. As of then, he'd never written a comic (though he vaguely alluded to overtures from people within the industry about such a project).
So although his fandom was no surprise, this announcement about his foray into the medium sent shock waves through social media. Just a sample of some breathless tweets:
There will be countless more joyous outbursts over the next few hours and days. But the importance of this news isn't just the thrill of a great literary mind entering the comics world. It's significant because of the awful few months that Marvel has been having with regard to diversity. Once hailed (justifiably!) as a beacon for progressive inclusion in its roster of characters, Marvel has recently come under deep criticism from watchers of the industry for perceived missteps on matters of race.
First came the announcement of this fall's new slate of Marvel series, under the promotional banner of "All-New, All-Different Marvel." Though the books will have a healthy dose of characters from traditionally marginalized groups (e.g., the current Captain America is still an African-American man, the current Thor is still a woman, the current Ms. Marvel is still a Pakistani-American girl, the titular team in The Ultimates appears to be nearly devoid of white men), the creative teams were heavily weighted toward straight, white men. In a much-lambasted and unintentionally ironic move, there's even a series starring African-American superhero Blade and his African-American daughter … written and penciled by two white men. (To Marvel's credit, it then announced some new series with some creators of color: Natacha Bustos is drawing Moon Girl and Devil Dinosaur, Native American artist Jeffrey Veregge is doing cover art for the Native American–starring series Red Wolf, and Korean-American creators Greg Pak and Frank Cho are doing a new Hulk series. But such moves were still dwarfed by the sheer magnitude of criticism.)
Making matters worse, Marvel then got into an ongoing imbroglio about its decision to launch a monthlong initiative in which its comics would have limited-edition printings featuring covers that imitate famous hip-hop album artwork. Critics saw it as a big dose of cultural appropriation for a company with so few prominent African-American executives and creators, and Marvel editor-in-chief Axel Alonso was backed into a defensive position, arguing that Marvel and hip-hop have "engaged in dialogue for at least a couple decades" — a claim that influential critic David Brothers rebutted in a much-discussed Tumblr post by saying, "It's a long monologue, from rap to Marvel, with Marvel never really giving back like it should or could." Add all that to a controversy about Alonso saying Marvel's depiction of mythical hero Hercules was decidedly heterosexual, despite past allusions (and Greek myths) to the contrary, and Marvel was having a rough go of it for diversity. There was even a call on leading comics-news site Comics Alliance for a full-on Marvel boycott. (For an even deeper dive into Marvel's rough few months, here's a good write-up from the Daily Dot.)
Which leads us to today's news about the Coates-penned Black Panther. We don't know how long the series was in development, but it's certainly a major reversal for Marvel's optics. Indeed, although other leading publishers like DC and Image have their own laudable pushes on diversity, none of them have the kind of momentousness and crossover potential of this hiring. This isn't just bringing a writer of color onto a book about a character of color — it's bringing the leading voice on race in America onto a book about one of the most important characters of color to ever appear in comics. There have been politically charged and progressive stories about the character in the past (most notably, the incredible turn-of-the-millennium run from African-American writer and outspoken anti-racist activist Christopher Priest), but this is a period in superhero history where, more than ever, diversity is a clarion call for fans. Coates is answering the call, and it will be fascinating to see what he has to say.